Adele Roberts' health hacks part four: BBC Radio 1 DJ helps you get fit in the new year
Last updated on .From the section Get Inspired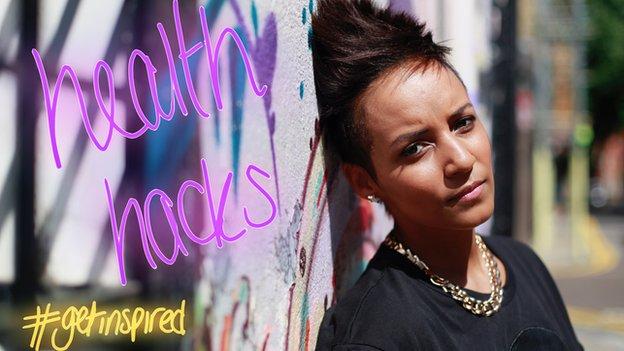 Many of us will have made fitness-related new year resolutions, but as daily life takes over - and with Wednesday 17 January marking 'national ditch New Year's resolutions day' - you may find yourself lacking the motivation and time to exercise.
Don't worry, over the course of the month BBC Radio 1 DJ Adele Roberts has been sharing her top health hacks to get you on the road to fitness more easily.
The daily videos are being shared on BBC Get Inspired Twitter,#GetInspired and on the BBC Sport Instagram account.
So far, the weekly best clips this month have included:
And here are this week's top three...
Shoe lunges
Who thought putting on your shoes could be turned into exercise? From flip-flops to your formal work lace-ups, every time you slip on a piece of footwear, get down and do a set of lunges to work those leg muscles.
Grab bags
Are crisps and sweets your downfall? It's mid-afternoon, you see the communal office chocolate box, do you give in to the temptation? Prepare a healthy 'grab bag' to take to work and make sure you're snacking on nutritional food instead.
Desk dips
Do you have a spare few minutes ? Place your palms on the edge of a desk, bend your elbows and lower your body. An easy workout for your triceps which you can do in your office or at home.
Want some more ideas on how you can work out and keep fit at home? Check out this BBC Get Inspired guide.