BBC Get Inspired: We catch up with five faces from 2017 as they reflect on the past year
Last updated on .From the section Get Inspired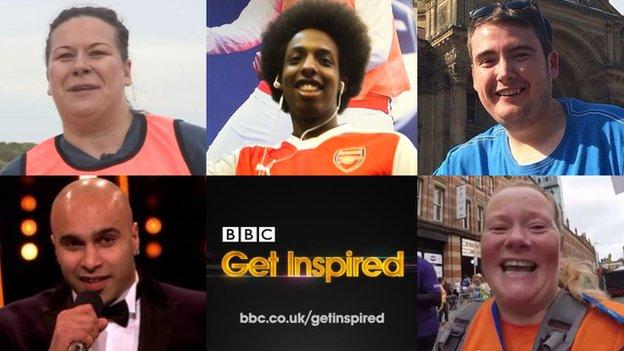 As 2017 comes to an end, BBC Get Inspired has had another busy year and met some amazing people along the way.
We've caught up with five faces from the year as they reflect on what has happened over the past 12 months, their greatest memories and plans for 2018.
Marcellus Baz - 2016 BBC Get Inspired Unsung Hero
From gang member to BBC Get Inspired Unsung Hero winner at the 2016 BBC Sports Personality of the Year - the story of Marcellus Baz from Nottingham is truly remarkable.
How was winning the 2016 Get Inspired Unsung Hero Award?
"To even be considered as one of the regional finalists was absolutely amazing. It was an event that I'd only seen on the TV and in the papers. It was surreal. It was nice that it was someone showing me a little bit of love, when it's normally me showing love to the people I work with. But I never thought I'd win it.
"To hear Gary Lineker, the guy I watch every weekend on Match of the Day, saying my name, wow. It was the best day of my life."
What has been your highlight of 2017?
"I have been able to take my work internationally and represent the city of Nottingham to raise the awareness of the work we do.
"I was also invited to Stevie Wonder's birthday party. I was speaking at a conference in America and afterwards I went to go talk to a radio station. He owned the station and I was told that he heard me speaking and was touched by my story. The next thing I know I had been invited to his party later that day.
"A limousine picked me up and took me to a venue which was full of superstars like Will Smith. I was taken to the back room to meet Stevie and I told him about how I use sport to create pro-social change. Then I was on the front row for his performance then we went on the stage to cut a cake. It was surreal."
What are you plans for 2018?
"Last month I won the national community coach of the year at the UK coaching awards in London. It feels like I'm opening more doors and opportunities for young people to succeed.
"I want to do more of the same, just to make a bigger impact in young peoples lives."
Dawn Nisbet - Great Manchester Run
Park runner Dawn Nisbet took part in her first 10k race at the Great Manchester Run in May - it was an emotional experience.
What are your memories of the race?
"The silence at the start and the pride in Manchester, it was the week of the Manchester Arena bombing. The atmosphere was so poignant that day, especially with the amount of people that turned up. When I saw the finish line I burst into tears because I'd done it."
What have you been up to since?
"It's totally changed my life. From being totally inactive I now go horse riding, I do Park Run every Saturday, I take my daughter to junior Park Pun. The impact on my mental wellbeing has been phenomenal."
Plans for 2018?
"I am doing the Great Manchester Run half marathon. I'm putting together a team of ladies of all different ages, shapes, sizes and abilities. We're going to do either the 10k or the half marathon as a team. We will be called Bee-Awesome, for the Manchester Bee."
Abdi - FA People's Cup
Abdi had the perfect day at the FA People's Cup (FAPC) finals, as his team Filthy Fellas won the higher education category to claim tickets to the FA Cup final.
Don't miss out on the chance to be part of the biggest five-a-side tournament in the country - sign up to take part in the 2018 tournament!
What do you remember about the FA People's Cup?
"This one is simple - winning the final. But also I got to meet different people. To see how they played was also a challenge."
How did it feel going to the FA Cup final?
"It was the first time I had ever seen Arsenal live because of the price of tickets, it felt amazing. I got to walk onto the pitch at half-time, in front of 80,000 people and lift the FAPC trophy. I felt like Arsenal captain Per Metersecker. It was a dream come true. And it helped that Arsenal beat Everton 2-1 in the final."
What else have you been up to and what are your plans for 2018??
"I have been busy with university and work, but I still play football once or twice a week to keep fit. The Filthy Fellas team still plays together every Saturday. We are coming back to enter the FAPC in 2018 and we are coming back to win."
Stuart Warner - Couch to 5k
Teacher Stuart started running after watching last year's London Marathon on TV, then checking out the 'Get Inspired' section of the BBC website and following the 'couch to 5k' app. Four years ago he weighed more than 25 stone, but after discovering his love for running he lost over six stone.
How was 2017 for you?
"At the end of April I did my first 10k run and it was that achievement of doing a distance that I thought was never ever possible, but it was possible and I completed it. I never thought I would achieve anything to do with running when I first started."
Any words of wisdom for beginners?
"That old Chinese proverb that every journey starts with the single step, it is actually true. It's about getting off the sofa and knowing that you're not alone. You're going to feel better for it."
Plans for 2018?
"I've entered the Birmingham 10k and the half-marathon for next year. I know I can do it and finish it, but I want to be a little faster than last year."
Lauren McCluskey - Southport Ladies Rugby Club
Back in August, Lauren McCluskey told us that her partner said there was no way she could play rugby. "I'm now better than he is," she told Get Inspired. Lauren plays for Southport Ladies Rugby Club - a group of 36 women who meet three times a week to train, keep fit and have fun playing rugby.
How was 2017 for the club?
"It's been an amazing year, we got promoted last year to Championship North Two and we're third in the league so are doing very well. We want to show how good women's rugby is so we all pull together.
"Any women's rugby club will welcome and support new players. They won't throw you in at the deep end and the full contact stuff, they will guide you and show you all the right techniques."
Are you still better than your partner at rugby?
"I can't believe I said that. There will always be competition between the two of us - in fact I've played more matches than him this year. But he is very supportive - he loves the banter."
What is the goal for 2018?
"We will need to maintain and improve our fitness and skill as a team and our goal is to finish third in the league that we're in and secure our place going forward."