Great Scottish Run: The Dundee granny on a fitness mission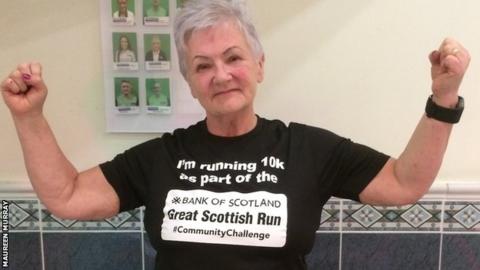 "People say, 'Oh, you can't do that at your age,' and that's the catalyst for me. I love to prove a point."
So says 72-year-old Maureen Murray from Dundee, who joined a gym 17 years ago and is fitter than ever, having just completed the Great Scottish Run on Sunday.
"I joined with my daughter, but she didn't last long," says Maureen. "Then I got a personal trainer and it's been non-stop ever since. I started with a 5K Race for Life, then 10Ks, half marathons, marathons, Tough Mudders, tandem skydiving…"
It's quite a list for Maureen - a mother of 10 and grandmother to 14 - who also has to contend with a niggling injury to her knee, aggravated by her determination (somewhat against medical advice) to finish this year's London Marathon.
"I really shouldn't have done the Marathon because my knee wasn't great," she admits.
"It was fine while I was walking at the start but as soon as I started running it was niggling me, so I walked, jogged, walked, jogged and then my calves started cramping up which brought my speed way, way down.
"It was seven-and-a-half hours before I finished, but I was determined I was going to get my medal and finish for the charity I was raising money for."
Running for the family
That determination partly explains why fitness is not just a personal mission for Maureen. Two of her sons have autism and mental illness and she is still actively involved in their care and fundraising for Sense Scotland.
"They're brilliant with Francis [the elder of the two], who stays in a care home just round the corner from me.
"They've taken him abroad to Canada and he's going to New York next year.
"Charlie stays at home but he goes to respite care two nights a month and he also goes out with Scottish Autism three-and-a-half days a week."
It all adds up to what most of us might consider a punishing schedule - at any age - but Maureen is unwilling to be pigeon-holed by expectations of retirees.
"People think when you're of pension age that you should be sitting at home knitting, but that'll never be me," she says. "If I'm not at the gym, I'm going for a walk or I'm babysitting one of my grandchildren.
"I manage my expectations of what I can do, but at least I've tried. I'll never be a fast runner - I'll always be at the back of the group. But I enjoy the buzz and I enjoy proving people wrong."
No slowing down
Having finished the 10K this weekend (rather than the half marathon, to protect her knee) in one hour, 28 minutes 58 seconds, Maureen has two Santa Runs lined up for November and December, the Inverness 10K and the Women Only 10K in Glasgow next year.
"I've been told not to do any long runs. Unless I get into the London Marathon again. So I'm waiting to hear about the ballot," she says, presumably in the knowledge her doctor is not an avid reader of the BBC Get Inspired website.
"It's just a niggle. I don't suppose it's any different to what anyone my age gets anyway!"
Naturally, Maureen can't hang around. She's off to the dentist and then a 'spinsanity' class - an hour of static bike and circuit training. "You're shattered at the end of it," she says, gleefully.
You can re-live coverage of the Great Scottish Run on the iPlayer.
And check out our inclusive Get Inspired guides if you want to find out how to get into running, or mass participation events.