Invictus Games 2017: How Prince Harry's event helps recovery from battlefield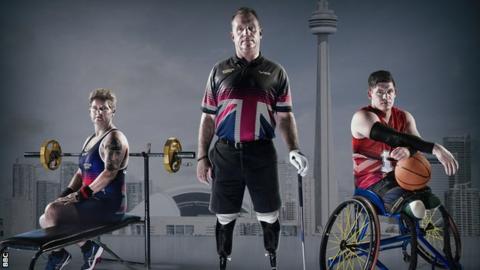 Invictus Games 2017 - 23 September to 1 October
Radio coverage: Listen to Helmand and Back on BBC Radio 5 live at 20:00 BST on Thursday, 21 September
TV coverage: Watch BBC One coverage every day from Sunday 24 September
Five-hundred and fifty men and women step on to the sport arenas of Toronto this week, writing the most recent chapters in stories that started on battlefields across the globe.
The Invictus Games, created by Prince Harry, is an event for wounded, injured and sick servicemen and women, shining a light on their sacrifices but also offering a challenge and pursuit that those who once wore a military uniform can often sorely miss.
Seventeen nations will be represented across 11 sporting events between 23 and 30 September in the third instalment of the event, with medals, pride and rehabilitation at the forefront of the mind of every athlete.
The BBC will provide comprehensive coverage of the 2017 Invictus Games, with a nightly highlights programme on BBC One.
"What we've really understood from 2014 and 2016 is the effect these guys as ambassadors have on the general public," said Prince Harry in the documentary Battle to the Start Line, which you can watch here.
When to watch Invictus Games on BBC One
Sunday 24 Sept - 17:30 BST
Thursday 28 Sept - 20:00 BST
Monday 25 Sept - 19:30 & 20:30 BST
Friday 29 Sept - 20:30 BST
Tuesday 26 Sept - 19:00 BST
Saturday 30 Sept - 17:15 BST
Wednesday 27 Sept - 20:00 BST
Sunday 1 Oct - 17:00 BST
"These guys are not going to suddenly be back to what they were. It gives them an opportunity to be together and use sport in an incredibly powerful way.
"Our focus now is not just on the competitors but on the family and friends. Their recovery happens along with that individual. Arguably the pressure is on the individual to not only fix themselves but to try and regain normalcy across their family."
Ninety athletes will represent the UK Armed Forces team in Toronto, in the same year Canada celebrates its 150th year of nationhood.
Here are four stories of recovery and resilience from members of the UK team.
'I was waiting for everything to go black'
Former Army lance corporal Scott Yarrington, who will compete in wheelchair basketball in Toronto, lost both of his legs above the knee when he stepped on an improvised explosive device in Afghanistan.
"My chin strap was strangling me, so I couldn't breathe right," he recalls. "I didn't think anyone was going to come. When I was lying there I thought I was going to die.
"I was putting in my head a checklist of whether everything was going to be alright if I died. I thought I was going to die there and then and was waiting for everything to go black. But it never did."
Yarrington spent two weeks in an induced coma and, in addition to losing his legs, both of his lungs collapsed and he sustained arm injuries.
During his treatment at the Queen Elizabeth Hospital in Birmingham, his sperm was extracted and stored in a procedure that was new at the time. That process allowed him and his partner to have son Alfie, who is now four.
"Invictus is not just for me - it's for all of my family. Something for Alfie to be proud of," he said.
"Not being in the army is the biggest thing I miss. If I had my legs back now I'd be back in the army tomorrow. As time goes on it's been a little easier to let go.
"It's only been the last 12 months I've been able to let it go and see myself doing something different."
'I was ready to take my own life - now I see a glint and a smile'
Not all scars from the battlefield are visible.
Michelle Partington had toured in the Falklands and Bahrain before becoming the first female medic to serve with the RAF Regiment in Afghanistan.
She later returned to Afghanistan as a paramedic and treated soldiers on the front line. The injuries and chaos she saw contributed to her post-traumatic stress disorder.
"I don't think anybody that's not been there can and will understand what it's like," she said.
"Our helicopter only went out to the worst injured. I wasn't prepared for what I saw.
"The one job I will never forget is when we got called to six children. They were playing in the area and got blown up by an IED.
"I didn't have a lot of time to think about things and at the time I didn't realise I had a problem. I did realise I was really, really scared about going back out there.
"Two years ago I was ready to take my own life. But today I'm ready to take it as far as it can go."
Partington, who says she suffered with nightmares and bed-wetting, will compete in powerlifting in Toronto.
"It was a family before when I was wearing uniform in the military. To me I'm wearing a uniform now. I'm with the guys and I'm happy," she said.
"I recognise my spark again. I see a glint and a smile."
'It feels like me is back'
After losing both his legs below the knee to an explosion in Helmand Province in 2009, Bernie Broad not only struggled with his life-changing injuries, but also with being stripped of his identity as a soldier.
"Good friends in the military, you would envy them and that envy would become hate," he said of his years following the injury.
"Taking my own life was an agenda. I knew how I was going to do it and why I was going to do it. I wrote out a list of why it made sense to do it."
"He came back and looked the same - he just wasn't the same. He was almost hollow," said his wife Jan.
"He was a shell of his former self. I didn't like the Bernie in between. I loved him but didn't like him. I'm glad he's back."
A former Army Major in the Grenadier Guards, Broad will captain the UK team and compete in golf.
"To have that proud feeling at Invictus in front of family, friends and military - my heart will be pumping with pride and inspiration that I haven't felt for a long time," he said.
"The Games are having such a positive effect on me. It feels like me is back and I'm enjoying that. I don't think the family have been this happy since before I was blown up. When I was told I would be captain I knew I was back - the soldier, the grenadier was back."
'The people who saved my life are heroes'
Jack Cummings was a sapper with the bomb squad when he was caught in an explosion in Helmand Province in 2010 and woke up a month later in the Queen Elizabeth Hospital with both of his legs amputated.
"I miss so much, from playing football with my mates to just going for a walk. There are so many things I can't do but at the same time I'm so thankful to be here," he said.
"People say 'Jack you're a hero' but the people who saved my life are heroes."
Cummings will compete in swimming in Toronto, just a few weeks after his wedding day.
"It's such a great feeling to me to be on an even playing field with everyone else," he said. "It's so great compared to day-to-day life where there are so many hindrances being in a wheelchair."