Walking netball: Meet the ladies who swear it can 'work miracles'
By Georgina Burkoff
BBC Get Inspired
Last updated on .From the section Get Inspired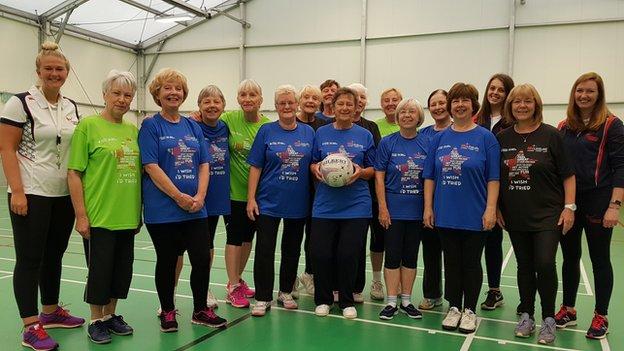 It's a gloomy autumnal Thursday just outside Manchester, and a shabby ex-council sports hall is about to be brought to life.
One by one they arrive, filling the building with light, laughter, smiles and enthusiasm.
The purpose of the gathering? Walking netball.
"I was actually the first one here, back when it started," says Carol Tate who, at 56, is the baby of the group.
"For the first couple of weeks it was only me and the coach! It was a good workout - learning passing, ball technique, shooting. But over the weeks as more people joined, that's when the fun really started."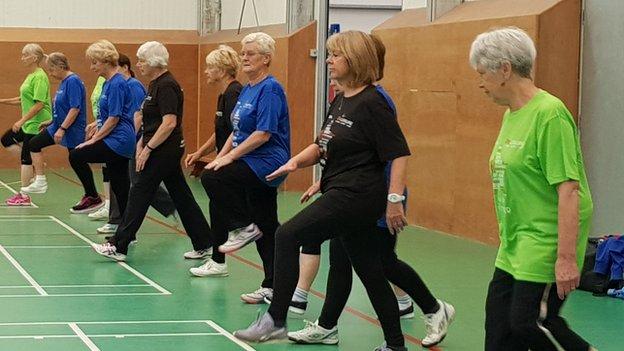 Life is about meeting people
Twelve months on from Carol's solo introduction to walking netball - a slower version of the sport aimed primarily at those 50 and over - a core group of regulars attend every session, without fail, for their weekly dose of socialising with the added bonus of exercise.
"You come out feeling invigorated," says Margaret Goldsmith, who also captains a women's bowls team in the local area.
"I bowl on a Thursday too, so it's a busy day, but I won't miss netball, oh no. I love it too much."
For many of the ladies, the interaction with other people is by far the most important aspect of the session.
"I live on my own, so today I hadn't actually spoken to anyone until I came here," ex-PE teacher Pauline Barton tells me. "I used to meet hundreds of people in my job, and I've gone from that to nothing.
"Life is about meeting people and not being on your own - and walking netball is great for that."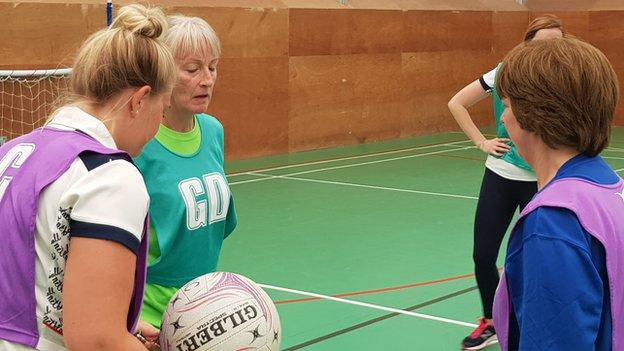 Stepping through the door
But it's not always easy to get started, as Pauline explains.
"The hardest part of walking netball - or any sport I think - is walking through the door. It's going out your door and through this one. Because you don't know the people, you're thinking, 'am I wearing the right thing?' and 'what will they think of me?' But all these things, they mean absolutely nothing, because once you've walked through that door, your life will change."
Once you've made that brave decision to enter the sports hall, you're greeted with a bunch of smiles and an instant group of friends. This aspect of friendship was especially important for one member of the team.
After losing her husband, Doreen Leonard was at a loss. Without the motivation to go out, she found herself sitting at home with a lot of time to think.
"I was at a very low point when my husband passed away," she says. "I'd seen a few ladies coming and going here so I found out what was going on and just got mixed in.
"It's mental stimulation as well as physical, it makes you think and gets your brain working."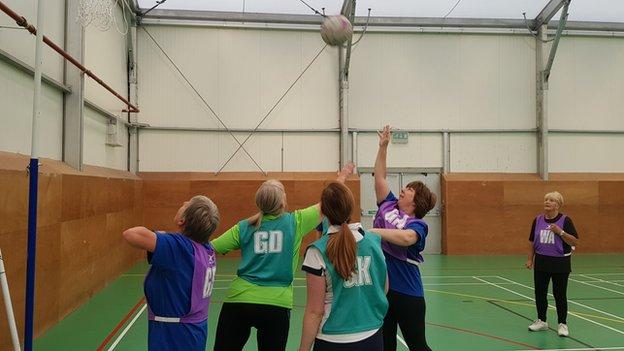 Supporting Doreen both on and off the court is friend and team-mate Carol, who also uses walking netball as a method of escapism from everyday life.
"I still work part-time, and I care for my mum who has health problems," she adds. "I just find that having this one hour, once a week, it gives me that boost I really need."
Expert guidance
The coaches, supplied by England Netball run the walking sessions in the same format as the original version of the sport - a warm-up, fun mini-games and drills followed by a full-court game.
With no running or jumping permitted, an extra step between moves and four seconds between throws allowed (as opposed to three in the regular format) the rules differ only slightly to the game many of us played at school.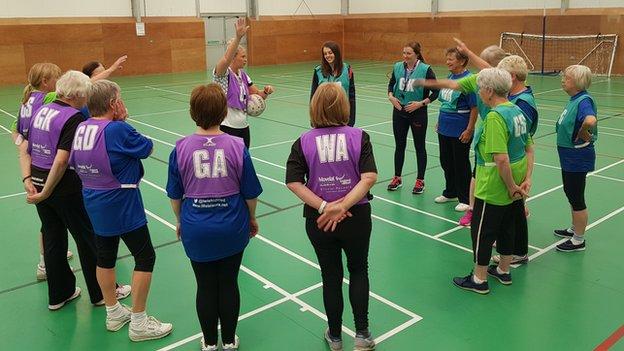 Tactics, teamwork and fast thinking make a successful netball player. These skills are taught in a gentle but engaging manner with the emphasis undoubtedly on having fun.
Despite the slower pace of the game, the physical benefits of walking netball are evident from speaking to the ladies.
"People say, 'well it's only walking'. But it's the pace of the walking that gets you," Angela Phillips, a regular at the sessions, explains.
"So I'm quite proud to say I do walking netball. It keeps your limbs moving, and in your seventies that's definitely a good thing."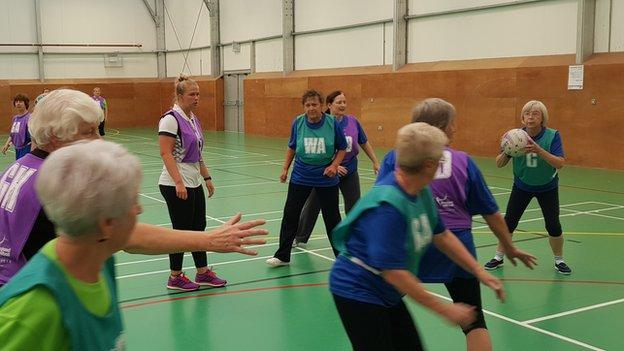 Companion Jennifer Corry says she's often met people who question her ability to take part in the sport.
"Other people say to me, walking netball... you don't do that do you? They laugh at you at first, but then I ask them to come and join us, and they never look back after that!"
Over to you
Despite a slight difference in age, there's little to distinguish between a group of teenagers gathering for an after-school netball game and these ladies, who fill the sports hall with enthusiasm and friendship.
Asked why they would recommend walking netball to those looking for a new activity to pursue, the team all chipped in with their reasons.
Doreen however, simply turns and smiles, replying: "Just try it - it works miracles."
Netball truly is a sport for all. Visit our guide to find out which format is best for you and give it a go!