Parallel London: Hosts CBBC's Mandeville sisters talk disability, inclusivity and pranks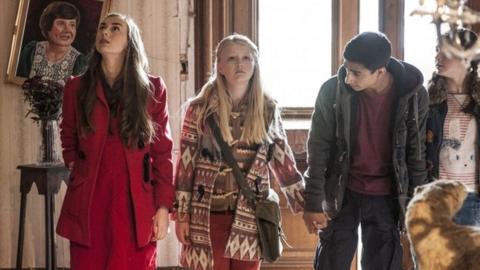 Grace and Amelia Mandeville aren't afraid of talking candidly - they've built a following sharing funny, insightful and honest videos on their Youtube channel.
Now they're hosting this year's Parallel London - an all-inclusive fun run on Sunday, 3 September for people of all abilities - and speaking out against segregation in sport.
The sisters are excited to get involved - Grace was born without a right hand, but it has never stopped her from excelling.
"In my experience, the only reason people treat disability like it's not normal is when they are unfamiliar with it," she says.
"So I do my best to show as many people as possible that I'm not odd or weird because I have one hand - I'm just odd and weird in general!"
She's spoken about her disability in a number of videos, with a strong focus on how lucky she feels never to have been held back by it.
"I'm lucky that I was born with something that hasn't really stopped me from doing anything."
Grace, 22, starred in CBBC show The Sparticle Mystery, and both she and Amelia have appeared on CBBC's Lifebabble and Oops I Missed The Bus.
The sisters are vocal about the importance of inclusivity, and how events like Parallel London make a huge difference to those whose access to sport is limited.
"Parallel London proves that just because you might appear different, doesn't mean you should be treated differently," adds 20-year-old Amelia.
"It's great to be involved with an event where everyone has a right to join in."
Parallel London is focused on fun - and the organisers are keen to point out that there's no pressure involved in signing up.
"There is no cut-off time, it's not about the race, it's not about competition, it's not about how fast you are," says organiser Kate Atkin, "It's about being there with everyone else, having an amazing time."
"Wheelchairs, guide dogs, someone to walk with you, three people to walk with you - whatever it is, whatever you need, we're here to say - do it!"
Participants can choose from a number of races, including a 100m, 1K, 5K and 10K, and there's a even a multi-sensory 1K track with bubbles, lights and a ribbon canopy - designed to help participants whose memories are aided by sensory support (and for anyone who enjoys bubbles).
So, what would the sisters say to anyone nervous about signing up?
"Remember what makes you different is what makes you, you," says Amelia. "If we were all the same, the world would be a very boring place."
"For example, with my missing right hand," says Grace. "I use it to my advantage on Halloween and pretend I'm biting my hand off - who else can do that?"
Learn more about Parallel London, here - anyone and everyone is welcome.