Parallel London: Fun run returns with 100m, 1K, 5K and 10K events
Last updated on .From the section Get Inspired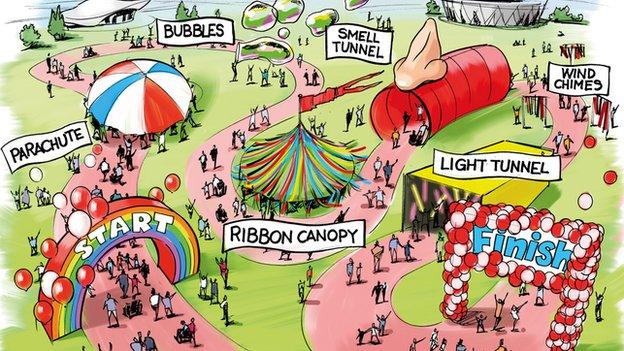 "Sport? Physical effort? Me? Er, no. But after meeting the young disabled people who were taking part, seeing their excitement at being able to join in with such an event for the first time, and then experiencing their joy as they passed the finish line - it touched me.
"More importantly, it inspired me to take part. I wanted to be like them. I will be one of them this year."
Those are the words of Mik Scarlet, broadcaster and Parallel London ambassador.
The world's first fully inclusive fun run returns to London's Queen Elizabeth Olympic Park on Sunday, 3 September - and the organisers won't take "I can't" for an answer.
"Wheelchairs, guide dogs, someone to walk with you, three people to walk with you - whatever it is, whatever you need, we're here to say, 'do it'" says a member of the Parallel London team.
"This is a race for everyone."
Parallel London - a sports event and festival that welcomes participants of all abilities - is powered by the firm belief that everybody should take part in physical fun side-by-side.
"This isn't about creating a race for people with disability, it's about creating a race for everyone.
"We want to celebrate inclusion, get families and friends taking part in the same event, no matter what physical barriers might normally hold you back."
Choose your race, get set, go
You can choose from the 100m, 1K, 5K and a 10K, but the organisers are keen to emphasise that winning isn't the point.
"There is no cut-off time, it's not about the race, it's not about competition, it's not about how fast you are - it's about being there with everyone else, having an amazing time," the organisers say.
"Some people might not be able to finish the race itself, but that's not any less of an achievement.
"Just signing up, just turning up - that's what it's about. For people who have mobility difficulties, it's one of the biggest steps that they can take."
Bubbles, lights, ribbon canopies and music
One of the biggest draws is their multi-sensory 1km event - a track filled with bubbles, music, light tunnels, parachutes and ribbon canopies, to appeal to any participants whose memories are aided by sensory support, not to mention those who just want to have fun.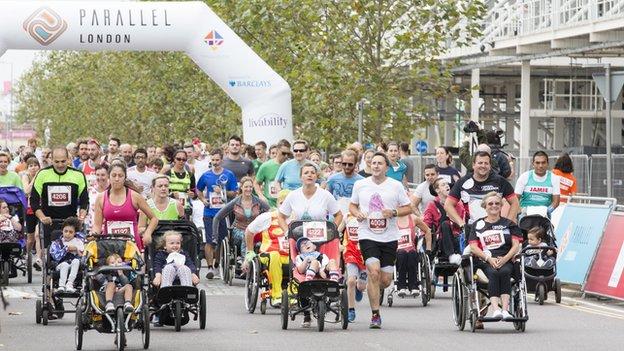 The event has grown hugely since its success last year, with organisers expecting a 50% increase in people participating, estimating 4,000 in total.
Many of this year's runners are people inspired by seeing many more types of ability represented in 2016, including Sally Derby, who has MS and watched Parallel last year.
"I watched someone like me who'd done it and thought 'I need a goal', so I signed up," she said.
For many of the returning participants, the goal is to improve on their performance last year. The festival hands out goody bags with timers for every runner - so they can leave the race with a time to beat.
Maya, a young girl with epilepsy and hip dysplasia was overjoyed to compete in the 5K run last year, and hopes to take part in the 100m this year, raising money for the Amazon Children's Ward in Peterborough.
For those who don't want to run but want to be part of the action, there's a day-long free festival while the events take place, with food stalls, entertainment, games and workshops (including skateboarding, table tennis, game-coding and even an autism-friendly barber).
And it's the atmosphere that both participants and organisers keep coming back to.
Katie Atkin was determined to join the Parallel London team after attending last year and being overwhelmed by the joy she witnessed.
"I was just blown away by the atmosphere. It was an amazing, buzzing, inclusive place to be," she explains.
"When I saw a chance to help organise this year's event, I thought 'I have to be part of this'."
And underlining it all, we can't ignore the hard facts the organisers are addressing.
According to the English Federation of Disability Sport, 64% of disabled people would like to take part in sports that include both able and disabled people. So why are so few physical events fully inclusive?
"No-one wants to be treated differently," says Katie. "We all just want to get stuck in, have fun and leave the issue of disability at the door."
Think you're ready to challenge yourself?
No matter who you are, you can sign up to take part in Parallel London.
We'll see you in the bubbles!