BBC Sport - Get Inspired: #BigThankYou from Adam Peaty at Sports Personality of the Year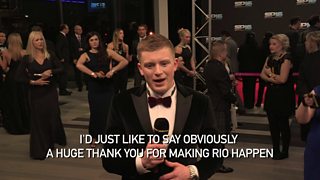 'Thank you for making Rio happen'
This Rio volunteer was surprised to see Adam Peaty when she answered her #BigThankYou video call.
Adam was just one of the many sporting stars who took time to thank volunteers during the red carpet event at BBC Sports Personality of the Year.
Find out how you can get into volunteering with our special guide.