BBC Sport - BBC Unsung Hero 2016: Vanessa Weedon-Jones wins BBC East award for sailing work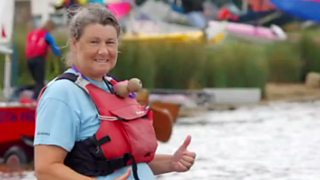 'Working tirelessly to get women on the water'
Vanessa Weedon-Jones, who has helped more than 30 women get into sailing, has won the BBC Unsung Hero award for the East.
Vanessa has worked tirelessly as a volunteer for sailing in the Cambridgeshire area, acting as a catalyst for positive change. Hunts Sailing Club, and Grafham Water have benefited enormously from her efforts.
Find out how you can get into sailing with our inclusive guide.
Meet your local Unsung Hero
Get Inspired Activity Finder
Run by the BBC and partners
Find ways to get active near you: