BBC Children in Need: British Gymnastics and Pudsey want you to Jump for Pudsey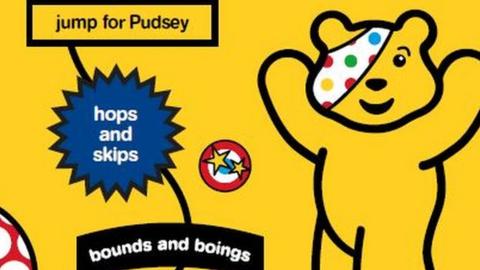 Whether it's jumping, leaping, bouncing or hopping you can help Children in Need by 'Jumping for Pudsey'!
This year British Gymnastics and Boots have teamed up to launch a new campaign to get you active as well as helping raise money to fund projects for disadvantaged children and young people around the UK.
You can join in and celebrate with one of our challenges from the handy booklet - find out more here.
All you need to do is get your friends, family or colleagues to sponsor you for each jump and see how many you can do.
You can run your challenge on any day between October and December, and as often as you want. We want to see how many jumps you can do by Appeal Night on Friday, 18 November, so don't forget to add your jumps to our totaliser.
See how far 1p per jump could go…
100 jumps - means a young girl who has been bullied can make friends at a local youth club
200 jumps - means an 11-year-old boy with autism can develop his co-ordination and confidence at a trampoline session
700 jumps - funds a project to help a deaf boy who has been in and out of hospital enjoy hands-on activities at an outdoor survival skills day
1,500 jumps - means a 12-year-old boy with learning difficulties gets to play, learn and grow in confidence at a unique football and literacy project
25,000 jumps - pays for a cooker for a family who have previously been homeless, allowing the children to have a warm meal a day and improve their health.
And if you are a gymnast, a gymnastic club or a leisure centre looking to get involved then you can get some helpful resources from British Gymnastics here.
So what are you waiting for? Turn jumps into pounds and help BBC Children in Need fund projects all around the UK!