Steve Jones calls for halt on drug exception abuse in athletics
Last updated on .From the section Get Inspired - Wales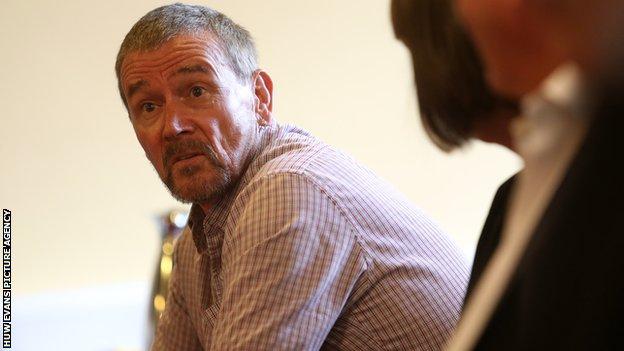 Former marathon world record holder Steve Jones insists abuse of the therapeutic use exception (TUE) system in athletics must stop.
Athletes, including Mo Farah, have come under scrutiny after stolen medical records showed they used banned substances for medical reasons.
There is no suggestion Farah has broken rules, but Jones said the question of TUEs must be addressed.
"There's abuse going on and the system should be changed," said Jones.
"There are cases where TUEs are issued for lifesaving reasons or just to stay healthy, but to use them to enhance your running is out and out abuse and I'd like to see that stop."
Jones, who remains the British marathon record-holder, was talking to BBC Sport Wales ahead of the Cardiff Half Marathon where up to 22,000 runners are expected to take on the 21km route this Sunday.
Among them is Welsh athlete Dewi Griffiths who finished 27th in the World Half Marathon Championships in Cardiff earlier this year clocking a Welsh best for the event.
Griffiths will be up against Kenyan runner Cybrian Kotut who won this year's Paris Marathon and has a half marathon personal best of 59:12, well inside the course record of 61:51.
Despite the tough competition Jones is confident Griffiths can make his mark in Sunday's race.
"He's in much better shape than he was in the middle of the year when he went to the European Championships," added Jones.
"I'm expecting good things from him on the weekend. I think he's the leader of the pack now.
"I can see him running a huge personal best on the weekend and it's one step at a time.
"He's still very young, but incrementally every year he's been moving up the ladder. The future of distance running in Wales in general is looking very rosy."