BBC Sport - Get Inspired: Lloyd Francis uses football to battle learning disabilities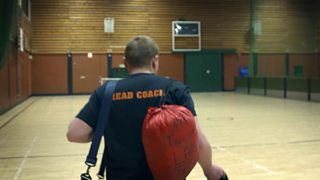 The beautiful game: A life changer
Lloyd Francis has learning disabilities and through his football team RCT Tigers, a club specifically for youngsters with learning disabilities, he has learned to change his life.
He is now the head coach at the club and is determined to help everyone have a great time playing the "best game in the world."
"It's completely changed everything about him," says Lloyd's mother Lisa.
"You couldn't have a conversation with Lloyd before, he wouldn't look at you. So to see him standing there now taking team talks it's amazing, absolutely life-changing."
Want more? Why not check out the ladies who helped save Llandudno FC or meet FAW Trust community coach Rahoul Chowdhury.
If you'd like to find out about getting into football - playing or volunteering - read our special guide.