BBC Sport - Get Inspired: The ladies who helped save Llandudno FC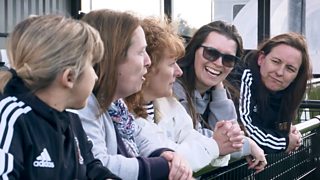 The ladies who helped save Llandudno FC
"There's not much else here for kids," says Julie Montgomery, one of a group of mums who helped rescue Llandudno FC.
Julie, like a few others, was concerned when she spotted an advert in the local newspaper in 1999 warning that the club could be closing down and went along to the meeting to see what was going to happen.
"A gang of women ended up standing up at that meeting to be the new committee - we didn't want to lose it," she explains.
If you'd like to find out about getting into football - playing or volunteering - read our special guide.