BBC Sport - Freestyle footballer Andrew Henderson explains how to do neck stall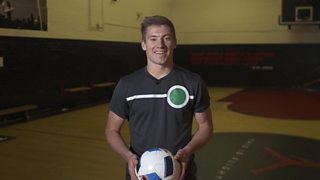 Freestyle football: How to do neck stall
We've all tried catching a football on our necks, and if you're lucky it may even have stuck there a time or two.
If you never quite mastered it, here's four-time world champion football freestyler Andrew Henderson with his tips for the perfect neck stall.
And if four world championships aren't enough to impress you, hear how Andrew gave Brazilian superstar Neymar some tips.
Andrew will be attempting to break the world record for the most Maradonna 7s in one minute live on Blue Peter at 17:00 BST on Thursday, 16 June.
If you want to find out about getting into football, have a look at our guide.
Get Inspired - general responsive hyper