BBC Sport - Get Inspired: Farah Jamil's journey from keep fit to boxing bouts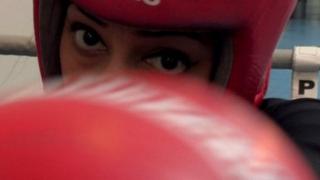 Farah Jamil fights her way to fitness
Farah Jamil is setting an example to young female boxers - and wants more from an Asian background to join her.
Her biggest achievement to date is winning the 2014 Scottish featherweight title and she dreams of representing Scotland at the Commonwealth Games in 2018.
However, she admits it's not to everyone's liking in her family.
Her father wishes her good luck but won't watch her fight and her grandmother is against it and wants her to quit.
Her mother does, however, watch her fights and offers support.
Discover how to get involved in boxing.