London Marathon: Inspirational stories from some of the runners
Last updated on .From the section Get Inspired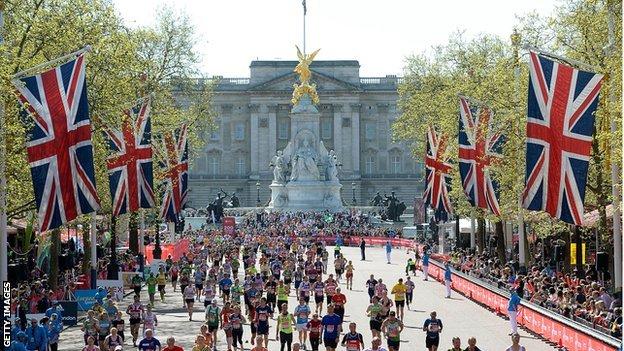 From three siblings honouring a promise to their dying mother, to an overweight runner out to prove she is not Too Fat To Run, the London Marathon is packed full of inspirational stories.
Get Inspired takes a closer look at the experience of six of the 36,000-strong field in Sunday's race.
"It's going to be very emotional"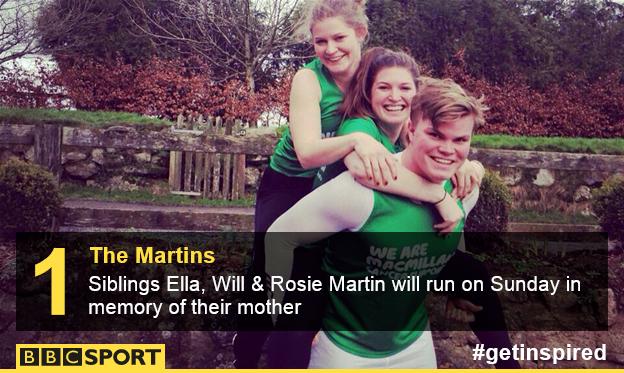 Marathon motivation: The Martins are a sister-brother-sister triple act delivering on a promise they made to their terminally-ill, running-mad mum Sand.
Sand Martin died in March 2014 from ovarian cancer. Prior to her diagnosis she had run for 365 consecutive days, leaving children Rosie, 24, Ella, 22 and Will, 20, determined to run their first marathons this year to honour her spirit.
Rosie says: "When my mum was ill we joked and told her that 'we'd all have to run a marathon now'.
"We entered the ballot straight away and the training has been really good mentally. Losing our mum was the worst possible thing that could happen but running the marathon has been something positive for us to do together.
"It's been a main focus all year for all of us. My sister and I run around the Mall all the time during training - it's going to be very emotional running there on the day."
Running for: Macmillan Cancer Support
Target sponsorship: £20,000
Target times: Will: under 4hr, Ella and Rosie: 4hr 30mins
"I expect to be in floods of tears"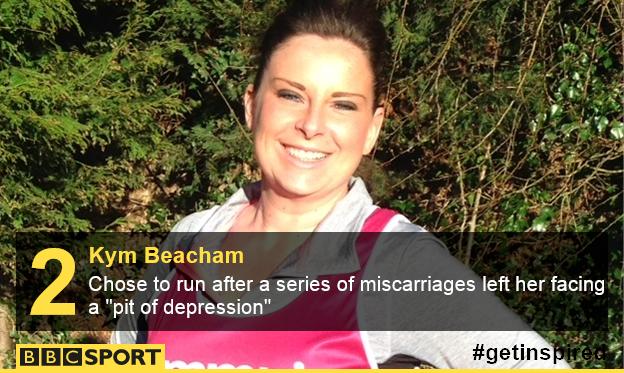 Marathon motivation: For Kym Beacham, training for the London Marathon was a bid to avoid spiralling into a "pit of depression".
A number of unexplained miscarriages and unsuccessful IVF treatments left the 37-year-old from Bromsgrove needing a focus away from her attempts to become a mother.
Kym says: "Having a miscarriage is the most difficult thing to go through and pick yourself up from. I could feel myself sliding downhill fast and I needed to find a focus other than trying for a family.
"I needed to break the cycle of tests in hospitals and disappointments and I decided a marathon was the way to brighten myself up a bit.
"I thought I would take a year off to focus on the marathon and then maybe we could go back to trying again afterwards. Lots of women who have been through similar situations have been in touch having seen my story on Facebook.
"I expect to be in floods of tears at the finish line."
Running for: Tommy's
Target sponsorship: £5,000
Target time: 4hr 15mins
"Even if I have to crawl, I'll finish"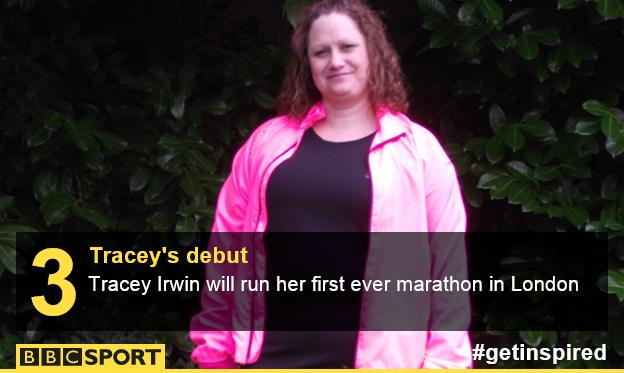 Marathon motivation: Tracey Irwin is out to prove she is not Too Fat To Run.
Inspired by the internet campaign of the same name, the 44-year-old from Camberley will take part in her first marathon this weekend.
At 14 ½ stone and size 16, Irwin is one of five runners from the Too Fat To Run campaign descending on the capital this weekend with the express aim of proving that marathon running is not the exclusive domain of those with short shorts and skinny legs.
Tracey says: "What are the chances of a plus-size runner going out and running 26 miles? When I first mentioned I was doing it I could see people thinking, 'really?'
"For lots of women even just getting out of the door to go running is a really daunting thing.
"It is just making people realise that just because we are a bit bigger it doesn't mean we can't do something.
"Even in the weeks building up to the marathon I have had some wobbles and times when I have had my kit on two or three times and just not been able to go out of the house.
"But even if I have to crawl over it, I am going to get over the finish line. It's going to be life-changing."
Running for: Ron Pickering Memorial Fund
Target sponsorship: £1,000
Target time: Under six hours
"It's not normal to do it with Type 1 diabetes"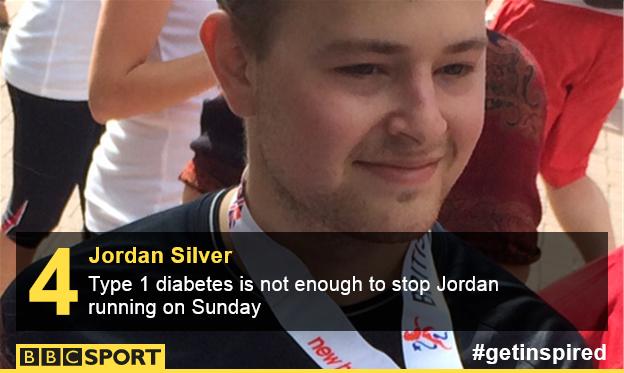 Marathon motivation: It's fair to say that Type 1 diabetes and distance running are not a natural fit.
Controlling blood sugar levels is paramount for diabetes sufferers and a five-hour slog around London could have dangerous consequences.
Jordan Silver is aware of the risks and will take to the streets of the capital anyway. Part of the London Marathon's unique appeal is the members of the watching public fuelling the 36,000 runners with their impromptu roadside tuck-shop of jelly babies and other sugary treats.
Not so for Silver, whose refuelling plans have been planned meticulously - and still might not even work.
Jordan says: "Diabetes is something that is always on your mind. I have worked out a plan for how I will keep my sugars at the right level hopefully throughout the race with an energy drink every five miles.
"I can't take anything more or less than that. There have been some scares when my sugars have got really low because diabetes is unpredictable - nine times out of 10 you can do a run and your body will react in the same way but on one occasion it can do something different.
"When I told my specialist that I was running a marathon he was a little bit surprised - it's not a normal thing to do for someone with Type 1 diabetes.
"My parents also asked me if it was a good idea to do it but there was no way that I wouldn't run."
Running for: Michael Green Foundation
Target sponsorship: £3,000
Target time: Under 4hr 20mins
"I wanted to prove something to myself"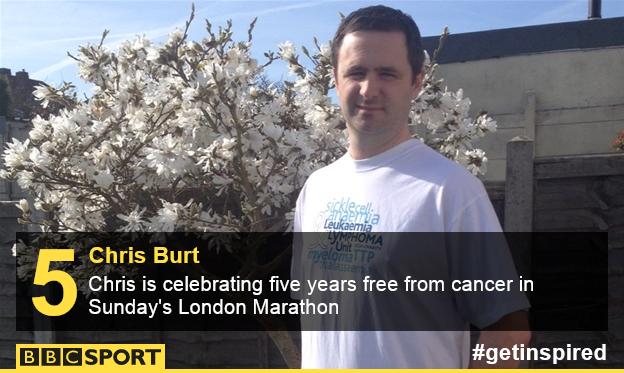 Marathon motivation: Chris Burt readily admits the moment he chose to run his first marathon resembles a mid-life crisis.
But for the 40-year-old from Chislehurst, April 2015 was not an opportunity to splash out on a sports car or jet off on an expensive holiday.
Instead it was a chance to celebrate the five-year anniversary of being free from cancer with a life-affirming 26.2 mile slog around the streets of London.
Chris says: "There are definitely other easier and more relaxing things that I could have chosen to celebrate my five-year anniversary. It's not quite going to the Maldives for a week is it?
"But after watching London last year I had a bit of a light-bulb moment and decided I wanted to run - even though I've never been a runner. The fact that I turned 40 as well this year made me feel like I wanted to go out and prove something to myself.
"While I have been doing the training I have had a lot of time to reflect on what happened. You can't help but think about it, it's either that or the pain of running."
Running for: The Leukaemia & Lymphoma Unit, UCLH Charity
Target sponsorship: £2,500
Target time: Between 4hr 30mins and 5hr 30mins
"I feel emotional just thinking about the finish"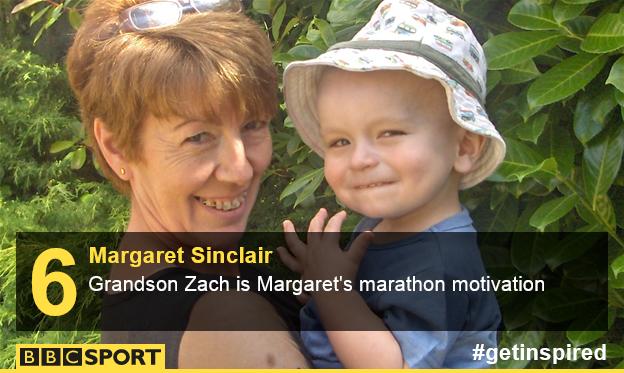 Marathon motivation: Margaret Sinclair is far from a marathon novice but London will be a painful first in that her motivation is very close to home.
Margaret, 53, is running her sixth marathon to raise money for the Childhood Eye Cancer Trust after grandson Zach was affected by malignant eye and brain tumours before his first birthday. Now two-and-a-half, but still fighting the disease, Zach will be cheering his grandmother on in London.
Margaret says: "Training for this marathon has helped to keep me sane although some people think to run a marathon you need to be insane in the first place.
"I feel emotional just thinking about being at the finish line. I've run marathons in the past but never for a cause that means so much to me.
"Zach is coming down to London for the race and the biggest gift for me is to have him at the finish because we have had many times when we didn't think that he would make it."
Running for: Childhood Eye Cancer Trust
Target sponsorship: £2,000
Target time: 4hr 54mins or less