BBC Sport - Taekwondo: Mahama Cho on Africa, bullying & training with Team GB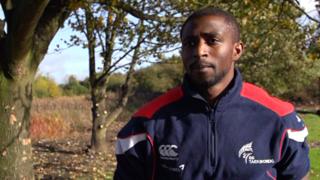 Taekwondo's Cho on overcoming bullying
Great Britain's Taekwondo fighter Mahama Cho was born in the Ivory Coast, but after experiencing physical bullying at school he moved to the UK in 1997 in search of a better life.
He initially experienced racial abuse, but explains to BBC Sport's Nick Hope how he overcame that and after briefly considering representing France, is enjoying competing for Team GB.
"The discipline in taekwondo has put me on a straighter path," he says.
If you'd like to find out about how to get into martial arts, read our special guide.