Get Inspired: A Mountain Bike scheme that will expand your horizons
Last updated on .From the section Get Inspired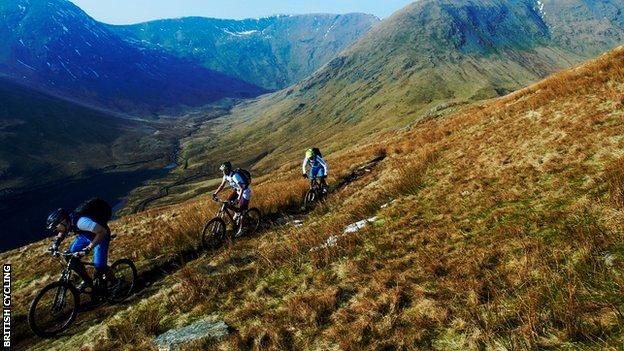 With the UCI Mountain Bike World Championships underway this week, British Cycling Olympic Mountain Bike coach, Phil Dixon, tells us how mountain bike enthusiasts can expand their horizons with Mountain Bike Leadership Awards.
I have a passion for riding bikes and the outdoors, so mountain biking really is great for bringing both of these passions together. When you're out in the countryside riding your bike, it makes you feel alive.
Mountain biking can be an unpredictable sport and with so many variables in the weather and the terrain you never get one race the same. This means that to be a good mountain biker, you need many different skills and a lot of strings to your bow.
That is why I have recommended the Mountain Bike Leadership Award to our athletes and this winter you'll see the likes of Annie Last and other Great Britain riders go through the process as the course really helps to broaden an athlete's skill-set.
While doing the course, you see the rider's belief systems change in terms of what they can achieve on the bike and where you can take them. I like to pass on knowledge that I've learnt, but it's important that they learn from other people as well.
Completing the Mountain Bike Leadership Awards has other benefits. We are often in the mountains doing training rides and things can go wrong, but if you've completed the Mountain Bike Leadership Award, it makes you feel more confident tackling any incidents that may occur. It gives you more confidence in your coaching when you're out there.

If you have an interest in mountain biking, then Mountain Bike Leadership Awards are a great way to advance your skills too and if you have a passion for riding bikes and the outdoors, being a Mountain Bike Leader is a great way to get out with a group of like-minded people.
The award qualifies you to lead groups of people on recreational mountain bike rides with the mountains, hills and rugged terrain of Great Britain providing a stunning backdrop to the awards.
The skills of effective leadership are outlined through practical and engaging activity at some of the best outdoor venues throughout the country.
Mountain Bike Leadership Awards
Level 1: Up skill members to enable them to lead introductory level mountain bike rides on set routes in a safe and enjoyable environment.
Level 2: Enables experienced mountain bikers to safely guide riders in mountainous terrain and provide them with a great day out.
Level 3: Aimed at highly experienced mountain bike leaders, who wish to extend their remit to include remote terrain and trails of severe technical difficulty.
Source: British Cycling
Ultimately, being a leader gives you the opportunity to share your passion for mountain biking with others. To find out more about British Cycling's Mountain Bike Leadership awards, please visit British Cycling
If you would like to find out how to get into Mountain Bike cycling, have a look at our dedicated page.