Get Inspired: Just how much can Jazmin Sawyers achieve?
From the section Get Inspired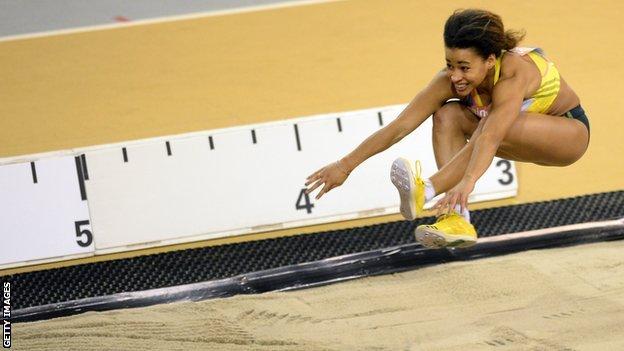 "I long jump, I sing, I study law...the chaos keeps me sane."
It's fair to say long jumper Jazmin Sawyers is not your typical 22 year old.
Whilst studying law at Bristol University her peers would be enjoying their summer breaks, Sawyers was gearing up for her senior major championship debut at the Commonwealth Games in Glasgow, writing new songs for her album, studying homicide cases and daydreaming about a return to her true sporting love - bobsleigh.
Her Twitter description talks of chaos, but she's actually overlooked a key part of her CV. Not only did she win a silver in the long jump at the 2014 Commonwealth Games but she's also a Winter Youth Olympic medallist in the 70mph ultra-addictive world of bobsleigh.
"I think it's a personality thing and I just love to keep busy," she says. "I realise it wouldn't work for everybody but I love the chaos.
"The other day I phoned my mum and she said 'I hear you're in Belgium?', and I suddenly remembered I'd forgotten to tell her I was going there for a competition."
For a girl who likes to keep busy, it's appropriate that everything happens fast in Sawyers' world. Her burgeoning solo music career - she is planning on recording some of her self-penned songs - began just two and a half months after she bought her first guitar, on a whim, from a charity shop.
"I saw it and thought, that would be fun and I just taught myself and started writing songs," she said. "My friend organises open mic nights in London and he said why don't you come down. I went and played and it went down well.
"One of my favourite artists, Jacob Banks, was in the audience and he came and told me how well I did so that gave me lots of confidence. Music is so different from athletics because in long jump people can judge how well I have performed from how far I jump.
"In music it is much more subjective which makes it more nerve-racking in one way, but I do love my music, it is a way to relax."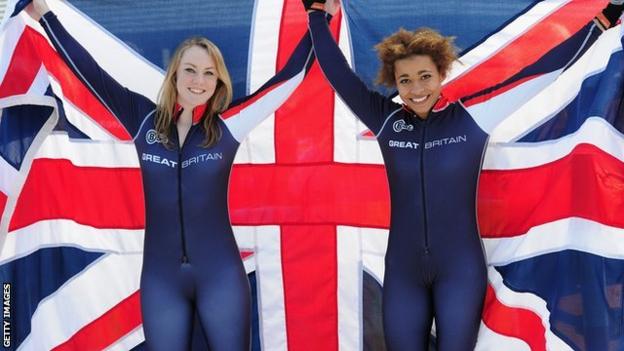 She has just graduated from Bristol University but she decided not to open her results until the day after the Olympic trials in case the result wasn't what she'd hoped for. So the day after qualifying for the Olympics she found out she had a 2:1 in her degree and then won a European silver. Not a bad couple of weeks!
All this scurrying around - she lives and studies in Bristol but trains at the University of Bath - is done on a Vespa motorbike. But Sawyers craves more speed. Shes competing in the sand pit in Rio this week, but memories of her Winter Youth Olympic silver medal in the two-man bobsleigh from 2012 are proving difficult to forget.
"I love the bobsleigh and miss it so, so much," said Sawyers - who was spotted in her school by visiting British Bobsleigh talent scouts in 2010. "There is nothing like sliding down the ice at 70 miles per hour, it's definitely a bigger buzz than long jump or performing on stage.
"I talk to friends who are still doing bobsleigh and I would love to go back. I have said that the sensible thing is to stay with my athletics and see how far I can get in that and then go back to it. But I am not sure whether I'll be able to wait."
Patience is a virtue clearly required by Sawyers' coach, 1974 Commonwealth long jump champion Alan Lerwill.
"We have tried in the past to sit down and plan my training three months in advance but it just didn't work," she says. "Now we do it week by week and even then I still change it all the time.
"I'll have a gig one night or whatever and Alan is just so great with me. That said, he has put his foot down a little bit and I've had to really knuckle down and get ready."
Sawyers has yet to study which of her rivals are heading to Scotland, but despite England's jumps coach John Crotty tipping her for a top-six finish, the England debutant is keeping coy about her chances.
Six months after her Winter Youth Olympic heroics, Sawyers won World Junior Championship long jump bronze as Katarina Johnson-Thompson took gold. Sawyers herself used to be a multi-eventer like heptathlete, Johnson-Thompson, spending eight months training alongside Jessica Ennis-Hill in Sheffield, before - uncharacteristically - deciding to specialise on long jump.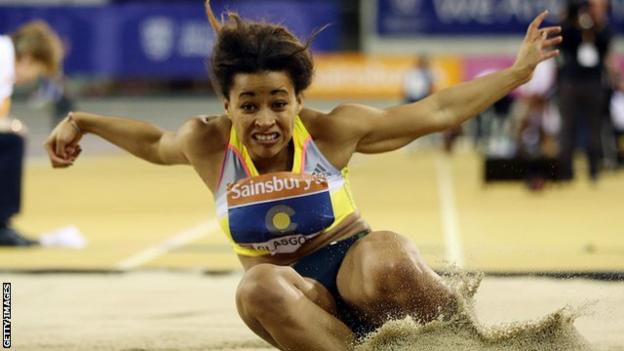 Silver medals at the Commonwealth Games and then the European Championships seem to have justified this decision and now Jazmin has her eyes firmly set on a medal in Rio.