Steve Way: From cigarettes and alcohol to marathon man
Last updated on .From the section Get Inspired
Maybe you're great and you just don't realise. Maybe there's a painter buried deep inside. A pianist? A pilot? A poet? You might be the finest puppeteer the world has seen. And never know it.
Steve Way didn't feel great back in 2007. Too many fags, too many kebabs, too much grog. Wasting away while getting fatter, wheezing in bed, annoying his wife, tired of life.
The same Steve Way who, at the age of 40, came 10th for England in the Commonwealth Games marathon. From worryingly fat and wheezy to prodigiously fast and breezy while approaching middle age. Heard that Muhammad Ali quote about golf? "I'm the best - I just haven't played it yet."
"I didn't really take any interest in sport at school," Way, from Poole in Dorset, told BBC Sport before the event. "I was pretty good at maths and physics, a bit of a geek. But I also enjoyed myself quite a lot in my twenties.
"There was quite a lot of drinking, quite a lot of smoking and quite a lot of late-night kebabs after nights out with the boys in Bournemouth.
"The big change came when I was 33, in September 2007. I was at my heaviest, about 16-and-a-half stone, and I was smoking about 20 cigarettes a day. I'd have sleepless nights because of the coughing. It wasn't pleasant.
"I'd be lying if I said I had an epiphany but I didn't like the person I saw in the mirror in the morning and I do remember the emotion I felt, the feeling that 'right, I've really got to do something, make some changes'.
"I wasn't clinically depressed but I was just moseying from one day to the next. I had no goals in life. There was nothing going on to get me excited.
"I needed to find something I could focus all my attention on that was going to help me lose weight and keep me off the cigarettes. In order to bury your vices you need to find an equal and opposite addiction. You need to find a passion."
It would be disingenuous to claim that Way had no inkling of his buried talent before that fateful day. In 2006, he entered the London Marathon, trained for three weeks and finished it in a little over three hours, not a bad time for a decent club runner. After which, Way ditched the running shoes and went back to moseying for 18 months.
But after deciding to get passionate and give up his vices for good, Way got seriously fast in a miraculously short space of time: seven months after emerging from his chrysalis and realising what beautiful wings he had, he clocked 2:35.26 in London and finished 100th.
His old friends down The George didn't really know what to think, except to say "you've changed". Changing can be a cardinal sin among a tight-knit group of mates.
"Until about a year into it they'd say to me, 'so, you're still doing this running thing?'" says Way. "They found it difficult to comprehend and embrace, especially because I was socialising less and less. But as time went on they began to see how happy it made me. Now they love that they knew the old me."
If you thought this story sounded fantastical so far, listen to this: Way somehow manages to combine running 130 miles a week with a 9-5 job in a bank.
"Running is a choice, not my job," says Way. "At the start of this journey I had a well-paid IT career but the hours didn't fit in with my training. So I changed jobs, took a considerable pay cut and made sacrifices.
"I have to be a little bit selfish - the training takes up a lot of my time. When I got married I wasn't the person I am now, but my wife Sarah is so supportive. She sees how happy it makes me and the passion it's brought us as a couple."
Way is often asked what might have been had he taken up running earlier. But why worry about what might have been when the present is so fulfilling?
"I don't regret going out and enjoying myself," says Way, who recently went on a 40th birthday bash in Barcelona, combining long training runs when his mates were in bed with the odd alcoholic beverage.
"I now have the best of both worlds. I still have an enjoyable social life, although it no longer involves going out clubbing on Friday and Saturday nights, but I also have passion and excitement in my life."
This story gets still more fantastical. Way qualified for the Commonwealth Games by virtue of being the third Englishman to finish this year's London Marathon. Ahead of him were two-time Olympic and three-time world champion Mo Farah, who pulled out of the Glasgow Games because of illness, and Chris Thompson, who will be running the 10,000m. But that's not the most amazing part.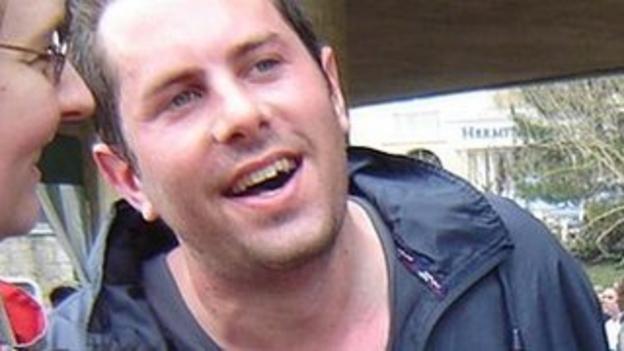 Neither is the fact that Way was 15th across the line in a time of 2:16.27, ahead of British Olympian Scott Overall. Or the fact that Way spent the night before the race in a camper van in his cousin's driveway in Kent. The most amazing part is the fact he hadn't actually trained for the race and planned to take it easy with some club-mates.
"The prospect of representing my country in Glasgow was not on my radar," says Way. "I was using London as a training run for the UK 100km Championships in May. But about a week and a half before London I realised I'd got myself into what I thought was marathon personal-best shape. I'm not sure how I'd done it, but I decided to race instead.
"On the day I felt absolutely awesome, so I went off with an official 2:15 pacemaker and had a great run. As I was coming down The Mall, I had it all to myself. I was looking down towards the finishing line, there were huge crowds on either side and the tracking camera started following me.
"At that moment I knew I'd be on the telly and my mum would be watching. It was a spectacular moment and made all those months of training worthwhile." Two weeks later, Way won that 100km race by 46 minutes.
While Way's rise has been filmic so far, he was realistic about his chances in Glasgow. Four Kenyans finished well ahead of him in London. The winner, world record holder Wilson Kipsang, beat him by 12 minutes.
But for a man who only took up running to lose weight and kick cigarettes, simply being on the same start line as Kipsang was almost dream-like.
"For a good two weeks after I got selected for Glasgow it was all a bit surreal," Way said before the start of the Commonwealth Games. "Going from a couch potato to representing my country at a Commonwealth Games was hard to grasp."
It turned out Way was great but just didn't realise. At least he found out before it was too late. Maybe it's time to have a rummage around inside - who knows what you might find?
If, like Steve, you are thinking about getting into running and want to be healthier,