Sports Personality 2021: Fitness club founder Sam Barlow named Unsung Hero 2021
Last updated on .From the section Get Inspired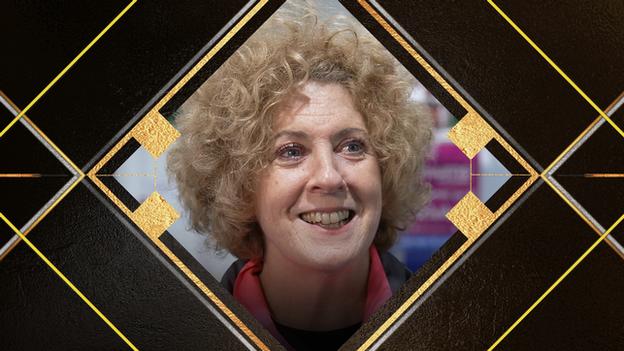 Sam Barlow has been named the BBC Sports Personality of the Year Unsung Hero for 2021.
She was nominated by the Fitmums & Friends group she set up in Hull.
Barlow started the organisation in 2009 to bring women together to get active.
It has grown to be all-inclusive, including children and dads, with 11 adult groups and four junior athletics groups across Hull.
Barlow also delivers a programme for schools in local areas where there is no sport and athletics provision.
After losing her husband Mike to cancer last year, she also started a fitness and support group for people experiencing loss, and continues to inspire other volunteers and coaches as Fitmums & Friends grows across the region.
Described by friends as "mad, crazy, beautiful, amazing. She's started something really small and made it massive. She gives so much of herself for the rest of us".
Sam said: "I have a passion for helping people who could be active with a bit of support, it's almost more about the social connections you make."
Barlow says Sports Personality of the Year was the one night she and her husband would always share together in front of the TV with a bottle of champagne and that "Mike would be amazed that this is happening".
Sam was selected by a panel of experts from 15 winners of local awards from across the UK.
The volunteers are nominated by local communities who have benefited from exceptional efforts. After a day's debate, a panel of experts from the sports volunteers sector selected the winner.