Will Ferrell takes on Andy Murray in charity tennis match
Last updated on .From the section Get Inspired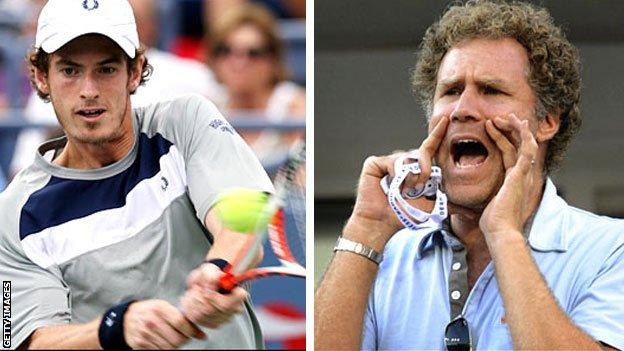 Concerned you might look a bit of a clown if you tried your hand at tennis?
Don't be, Hollywood actor Will Ferrell will probably be cast in that role.
Not content with a friendly rally against someone evenly matched with his own abilities, the actor, who stars as Ron Burgundy in the hit newsroom film Anchorman, has chosen to take on Andy Murray.
However, he's brought in some help.
Later, Ferrell will team up with world number two Novak Djokovic for the Desert Smash charity match in California against Murray and Hollywood actor Kevin Spacey.
As a timely warm-up to the match, Murray was in New York on Monday to mark World Tennis Day with a rematch against Djokovic, who he beat to be crowned Wimbledon champion.
The day was launched by the International Tennis Federation and StarGames in 2013 with the goal of increasing tennis participation among young players around the world.
Adam Brown, Central Scotland's district tennis coach, said celebrity tennis events like these were important in helping to promote the sport, but also stressed the need to make tennis more accessible.
"They get people, who maybe aren't involved in tennis, interested in giving the sport a go," he said.
"But one of the main things for getting into tennis is making it accessible - where you can play and how much it costs.
"In Stirling, for the last six months, we've had 2,000 kids playing tennis and more than 20 schools involved.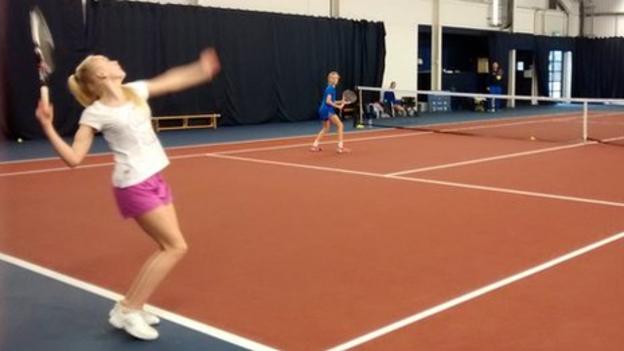 "We send coaches in and they get to play at parks for £1 a session, or in some cases even for free."
The Bridge of Allan/Stirling Tennis Project was backed by funding from various organisations as well as sponsorship from local firm FES (Forth Electrical Services).
There are other projects across Scotland, which also aim to get the public playing tennis. So you don't need to be the next Andy Murray to take to the court.
Tennis Scotland chief executive David Marshall said: "There's a huge emphasis just now on making sure community tennis is available.
"We're really opening up the park estate so that people can simply turn up at their local park with their friends and play tennis.
"We're putting in some structured activities for those who want a bit of help to get them started.
"So you don't need to join a tennis club, and in many local authorities the tennis is free.
"It's a fantastic opportunity to go along and give it a try."
One of Adam Brown's rising stars, 13-year-old Jodie McLelland, said it was great to have events that showed a lighter side to Andy Murray.
"As you see on Wimbledon and all the grand slams, he's quite serious and he's very competitive. But when you see him like that it's really nice.
"If they see Andy doing that, it shows anyone can give it a go, no matter how good you are."
Anna Gillespie, 14, who made her North of Scotland under-18s debut at the weekend, said there were many reasons why tennis was a great sport to play.
"It's social, it's fun, it's competitive, it's good exercise, it's really healthy, and to be honest I just love the game."
The match between Andy Murray and Will Ferrell should certainly help highlight the social side of the sport.
Andy is friends with all three of the other participants. The Scot and Novak first met at an under-12s tournament, becoming friends and rivals as they rose through the ranks.
Murray has said he is a big Will Ferrell fan, and first met the actor in 2008. And a couple of years ago, he met Tennis-mad actor Kevin Spacey.
'Method actor'
There has already been some pre-match verbal jousting among the friends.
Underlining the event's aim to raise money for the "inspiring" US charity, Cancer for College, Ferrell said: "You know what else is inspiring? Me embarrassing Kevin Spacey on a tennis court in front of a thousand people.
"Those Academy Awards aren't going to help him one bit when I'm raining fire on him from the baseline."
Spacey retorted: "I have taken this assignment like the greatest method actor who ever walked the face of the boards."
"I'm ready, excited and very, very pumped to head out on the court and kill you at the net!"
Hopefully, for Murray's sake, there won't be too many disputes over line calls. Recently, in character as Ron Burgundy, Ferrell made his views about the Scots clear.
"I don't trust the Scottish, I think they're lying."
If you're interested in giving tennis a try, go to the BBC's Get Inspired pages for more information.