Eleanor Oldroyd: From 'sporting failure' to sporting success

By Eleanor Oldroyd
BBC presenter
Last updated on .From the section Get Inspired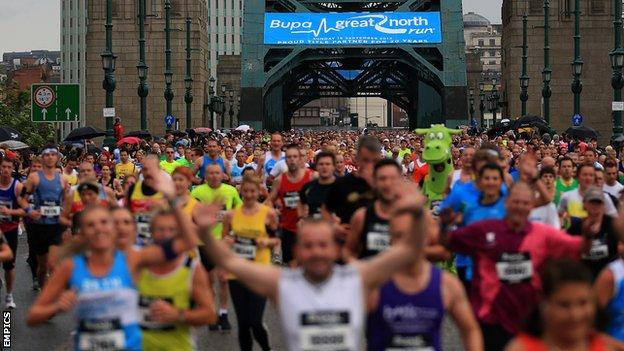 BBC Radio 5 live starts its build-up to the Glasgow 2014 Commonwealth Games this month, with the first instalment of 'Get Set Glasgow'.
The monthly magazine show, presented by Eleanor Oldroyd and Fred MacAulay, will alternate between Glasgow and BBC Sport's home in Salford, with reporters from England, Wales, Scotland and Northern Ireland contributing to each programme.
Here, Eleanor shares what the Commonwealth Games mean to her and what her 22 years at the BBC covering sport has taught her about what it takes for athletes to compete on the big stage.
I have to admit, when I was at school I was a sporting failure. I was not sporty at all. But as a mother, I am keen to keep my daughters interested in sport and keep them active. So, I thought it was only right to set myself my very own sporting challenge.
I decided to train for this year's York 10km race in honour of the late Jane Tomlinson, who lost her seven-year battle with cancer in 2007. I really worked for that race, I went to the gym more frequently, didn't drink and I devised a plan of action. More importantly, I executed it and it made me feel fantastic.
The training and the race itself made me appreciate the joy and pleasure of feeling fit and healthy. So, for that reason, I'm not stopping there. I've now signed up to do the Great North Run in 2014. For years I have been at the event in a reporting capacity, I've seen the joy on people's faces as they complete the 13.1 miles and I realised I wanted to be part of it.
I've got some way to go before I am ready for that race, but I know with the right sense of determination and a good structure, I will get there.
The essence of this story is that two years ago there was no way I could do 10km, now I'm about to do a half marathon. It just goes to show you can do it and you're never too old.
I'm not getting carried away, I'm not claiming to be an elite athlete now, but after watching and following sport for most of my life, meeting and interviewing dozens of athletes, I can relate to why they do it. Why they dedicate hours, days, weeks of their lives to their sport.
And that's what makes events like the Commonwealth Games so exciting for me and why being part of 'Get Set Glasgow' is so very important. So we can tell as many of those stories about the athletes as possible.
We also want to give the audience an insight into the atmosphere that is already building in the city, and has been for some time. The Commonwealths, also referred to as 'the friendly games', is an event with an incredible amount of raw passion and emotion.
So, if you are like me and fancy dusting off your running trainers, or maybe your swimming trunks, then check out BBC Sport's 'Get Inspired' pages for info of how you can get involved and get active.