Shelley Rudman on her Sochi hopes and teaching her daughter
Last updated on .From the section Get Inspired
An athlete's daily routine 11 weeks or so before an Olympics should be straightforward, tailored for a simple existence dedicated to workouts and resting. Sleep, sweat and maybe some tears. The life cycle of frogs shouldn't come into the equation.
In a spacious lodge in the Norwegian town of Lillehammer, Britain's Shelley Rudman is seated at the end of a long wooden table, surrounded by family and supping from a breakfast bowl.
It is an ordinary scene which many could relate to. A mum, albeit a medal hopeful at next year's Winter Olympics, a dad and grandparents gathered around at sunup, reminding a tireless six-year-old to eat some cereal.
Just like every other day, a morning of fine-tuning awaits the 2006 Olympic silver medallist before the skeleton season starts in Calgary on Friday. First stop will be the track, followed by some lunch and then a session at the gym. So far, so predictable.
But then comes the afternoon's 'to-do list'. "Ella gets home tutored for two hours," says the 32-year-old, pausing, before adding: "By me."
"The school have been great. They give me weekly plans and I just follow that.
"Today the school is doing the life cycle of a frog so today Ella's doing the life cycle of a frog."
Rudman can't help but smile, the broad grin perhaps an acknowledgement of the peculiarity of a reigning world champion, which Rudman is, spending her afternoons teaching.
"Ella is out of school for long periods, but in Scandinavian countries children don't start school until the age of seven," reasons Rudman, who was a classroom manager before the sled took hold.
"I've looked at all the evidence, I've worked in primary schools galore during work experiences and I've worked in secondary schools, and I know it doesn't matter what a child does as long as they've got a stimulus.
"The real important thing that I need to come across is that she really enjoys it."
Rudman describes her daughter as her biggest cheerleader, her secret coach and the world's most knowledgeable six-year-old on the art of rushing headlong down the ice at 50mph.
It is perhaps unsurprising that Ella has learnt the family trade with such ease. Her mother is, after all, a two-time European champion and an Olympic medallist, while her father, Kristan Bromley - Rudman's fiance - is a former champion skeleton racer and will also be competing in Sochi.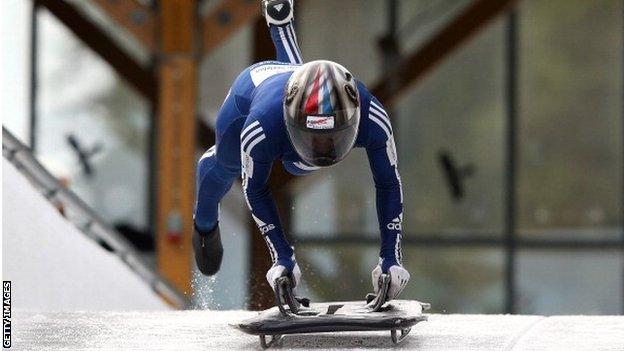 "I could have the worst result possible and Ella will be there and she'll give me a hug and a pep talk," says Rudman.
"Or, if you're doing really well she'll say 'oh my goodness you were the best out there'. She really likes going on the podium whenever that happens."
Mother and daughter have had plenty to celebrate this year.
In February, Wiltshire's 400m hurdler turned slider became the first British woman to win skeleton gold at the world championships. (There has only been one other British world skeleton champion and that was Bromley.)
Rudman's success over recent years would suggest another medal will soon be added to the family vault and, understandably, expectations are high that she can improve on the silver she won in 2006.
If only skeleton were that straightforward. For those fond of comparisons, Rudman likens her sport to the Grand National.
Her sport isn't simply a white-knuckle ride. The best, says Rudman, don't necessarily whizz over the finishing line in first place. If the curves and length of a track isn't to a slider's liking then that athlete, no matter how skilled, is in trouble.
Lessons have been learnt from Vancouver in 2010, however, when Rudman took too long to get to grips with the ice and, after a disastrous first run, ended sixth overall while team-mate Amy Williams claimed an unexpected gold.
Rudman is pragmatic about the track which awaits her in Sochi next year and throughout the interview is keen to emphasise that her Olympic ambitions have been sated in Turin.
"I'm more open-minded going into this Olympic cycle," says Rudman, who has piled on the pounds this year, a stone in fact, to improve her push start.
"If I suit that track, I could be in with the chance of doing really well. But if I don't, it's going to be a lot of hard work."
But if the Olympic medal already in her possession is enough, what drives Rudman on? Why continue with juggling home schooling with training and persist with the "challenging quirks" of organising and preparing the family, grandparents and all, for a life on the ice?
The answer is never far from Rudman's side: Her daughter.
Even during pregnancy Rudman was making preparations to return to the sled; sill striding at six months, still maintaining her core stability, her desire to compete once again never wavering despite knee surgery also looming after the birth.
"At the back of my mind, I thought 'how cool would it be for Ella to say she's been at an Olympics to watch her mum compete'. That's probably the biggest motivator," says Rudman enthusiastically.
"Just for my family as well, to do something to make them feel really proud. I race for that more than anything."
Rudman accepts there are some who would question a mum's desire to participate in such a high-octane sport, and says she understands such concerns, but a broken fingertip and a few ice burns is the worst of the damage the ice has done to Rudman's bones.
"If there are instances where people have hurt themselves they are freak incidents and they don't happen very often," she says.
"This is my job. If you look at it cynically, anything anyone does could be dangerous. I'm quite a safe driver and it's been going really well so far."
Britain's hopes in Sochi are, then, in safe hands and by the middle of February, when Rudman's out of the ordinary Olympic life cycle comes to an end, we will have learnt whether the metamorphosis into a gold medal-winning Olympic super mum will have been completed.
You can watch Shelley Rudman on Inspire at 13:15 GMT on Saturday, 30 November on BBC One and BBC One HD.