Mallory Weggemann on paralysis, Paralympics and "walking" again
By Nick Hope
BBC Paralympic sports reporter
Last updated on .From the section Get Inspired
On 21 January 2008, Mallory Weggemann walked into hospital - but she would never walk out.
What was supposed to be a routine pain-killing epidural to cure a long-standing back problem had catastrophic consequences as the then 18-year-old was left paralysed from the waist down.
The American teenager from Minnesota, who was dreaming of her future at university, competing as an able-bodied swimmer and exploring the world by foot, was left facing life in a wheelchair.
"I had so many plans and things that I wanted to do then all of a sudden I thought it was all over," reflects the London 2012 Paralympic champion.
"I spent a lot of time wondering 'why me?'"
Weggemann's reaction to the injection had been almost immediate and she describes how her legs dropped "like a ton of bricks" moments after the procedure began.
Sensation in the lower half of her body never returned, but she has been given hope of "walking" once more with the invention of customised carbon-fibre leg braces.
An earlier version attained world-wide attention in 2011 when paraplegic bride Jennifer Darmon from the United States used them to walk down the aisle at her wedding.
However, the new device comes at a significant cost - around £30,000 - and aside from private sponsorship deals, leading US Paralympians only receive around a third of the funding British athletes do from UK Sport.
Weggemann also received no compensation for her paralysis and as such is utilising the Indiegogo crowd-funding phenomenon which allows members of the public to make contributions directly to athletes themselves.
"It's not walking like I used to - I don't have the ability to regain function because I'm a complete paraplegic," she told BBC Sport.
"The braces would allow me to move upright though and being able to see my loved ones at the same height or to move towards people I care about who have never seen me walk, would mean everything."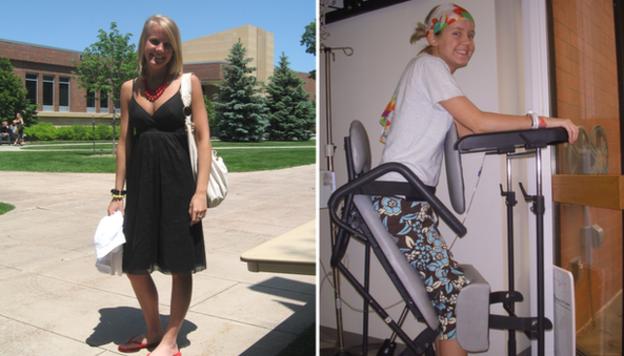 Thoughts of being able to walk again were far from Weggemann's mind in early 2008 when even leaving her family house in Eagan, Minnesota felt like an aspiration too far.
"I couldn't sit up in bed alone, I couldn't dress myself, I was completely dependent which meant one of parents wasn't able to work on certain days," she said.
"They were fantastic, but I was finding everything really, really tough."
Her outlook changed when her parents found an advert in a local newspaper for the Beijing Paralympic trials which were talking place only 30 minutes from her home.
"I grew up watching the Olympics and my heroes were Natalie Coughlin and Janet Evans, but I had never heard of the Paralympics until I became paralysed and to me that was so sad," she said.
"Swimming had been my life before and I was absolutely in awe of these [disabled] athletes - I was so inspired.
"From that day swimming was my safety and my sanctuary - it was an escape from my chair and it brought me back as a person."
Weggemann admits she was unlikely to have competed at the very highest level as an able-bodied swimmer, but with fewer distractions her attitude and focus shifted during the following four years.
Thousands of hours of training, untold family sacrifice and 13 world championship medals later, she arrived at London 2012 targeting an incredible nine titles.
However, Weggemann would not to have the chance to live up to her billing as the "Paralympic answer to Michael Phelps" after being reclassified on the eve of the Games.
She was switched from being an S7 to S8 swimmer and matched against those considered having less severe disabilities.
"I was heartbroken, I wanted to pack my bags and go home," she said.
"I had such huge [medal] targets and I was very emotional, but I was still a part of Team USA and I didn't want to let reclassification in London define my athletic career."
Seeing some of her rivals stretching their legs before her 50m freestyle final gave Weggemann all the motivation she needed.
On 12 September 2012, she became a gold medallist in London with a new Paralympic record of 31.13 seconds.
"It was the race of a lifetime and to come home a champion really showed how much mental fortitude and determination can do for an individual," said Weggemann, who also won bronze in the women's relay.
The swimmer missed this year's World Championships in Montreal because of a kidney infection but insists her passion for the pool is undiminished and aims to continue competing through to the 2020 Tokyo Games.
Now though she has another focus.
Should Weggemann fail to achieve her funding target by 1 October she will still be allowed to keep the money raised during her campaign, but may need further parental help to move to Detroit where testing on the device is due to begin in late October.
"Ever since I was paralysed, I have dreamed of being able to walk again," she said.
"It's wrong that there is a price put on making that step, but hopefully the funding will come and if there's an excess I would love to be able to help someone else.
"I was inspired by watching Jennifer Darmon's story and hopefully there's someone out there who will be inspired by what I'm doing."