Get Inspired: How to get into tennis
From the section Get Inspired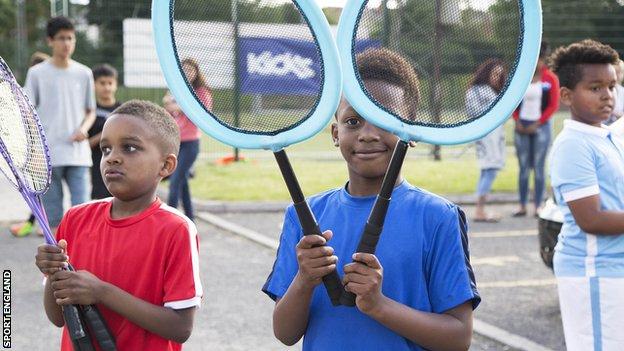 How do I start?
What is it?
The aim of the game is pretty simple; hit a tennis ball over the net, making sure to keep it inside the designated lines.
If your opponent fails to return the ball back over the net to you, you win the point. You can play with two people (one-on-one), or with four (two-on-two) on different surfaces, including grass, hard court, carpet and clay.
Is it for me?
The simple pleasures of whacking a yellow ball over a net are not to be underestimated. It's an addictive and fun way to get fit, with many different variations to suit people of all ages and abilities.

As well as being extremely social, tennis is a non-impact sport which improves bone-density and flexibility of muscles and joints.
What to expect when I start?
Tennis will give you an

all-round workout

and help you stay fit, building your

leg muscles

as you run around the court.

You will improve your

hand-eye co-ordination

, build

upper body muscles

and

increase stamina

as you run around the court.

The British weather isn't the most reliable, but there are many options to

play indoors

throughout the year.

Tennis can be adapted for any level of ability, as well as for players with different disabilities.

Wheelchair tennis

can be played on any regular tennis court, with no modifications to racquets or balls, and there are many different options for those with other disabilities to play.

The

LTA

caters for and champions wheelchair tennis, and also offers subsidised camps featuring

learning-disability

,

deaf

and

visually-impaired tennis

.
Cardio tennis

is a fun, sociable group-fitness class on a tennis court where you get to hit lots of balls whilst listening to music.
To get you in the mood ...
Are you inspired to try tennis? Or maybe you are a keen enthusiast already? Get in touch and tell us your experience of the activity by tweeting us on @bbcgetinspired, visiting us on Facebook or email us on getinspired@bbc.co.uk.
All clubs need a chair, secretary and treasurer to help things run smoothly as well as officials, coaches and judges. Whatever role you're interested in, Join In has opportunities to volunteer in your area.