All-Ireland Football final replay: Dublin clinch historic five-in-a-row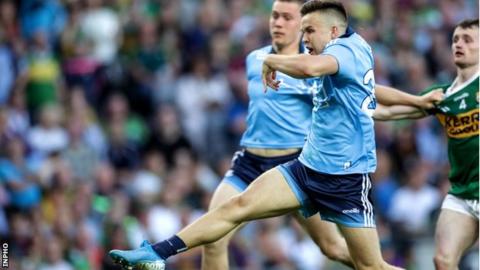 Dublin footballers made GAA history at Croke Park as they became the first team to win five successive All-Ireland Senior titles in football or hurling.
Kerry tested the Dubs to their limit in the first half of the replay as they twice fought back from four points down to level at 0-10 to 0-10 at half-time.
But Eoin Murchan crucially netted for the Dubs 15 seconds after the restart.
Stephen O'Brien had a Kerry goal chance but was denied by Stephen Cluxton as the Dubs clinched a 1-18 to 0-15 win.
Cluxton was captaining Dublin to a sixth Sam Maguire Cup triumph as Kerry's hopes of adding to their record 37 titles were denied by a team most will regard as the greatest in gaelic football history.
Mick O'Dwyer's famous Kerry football team missed out on a five-in-a-row in 1982 after a last-gasp goal Seamus Darby goal for Offaly and Peter Keane's largely young Kingdom squad were hoping to deny the Dubs something regarded as akin to GAA immortality.
However, the view that Kerry had probably missed their chance after leading in injury-time during the drawn game was ultimately proved right as Dublin clinched the county's 29th All-Ireland Football title.
Kingdom play part in breathtaking contest
Modern day intercounty gaelic football rightly comes in for severe criticism for the lack of entertainment amid the cautious approaches of many managements but Saturday's replay was a joy to behold as both teams attacked at pace when in possession.
Goalscorer Murchan's late inclusion in the Dubs defence gave them an extra attacking option from the drawn encounter as he charged into opposition territory at regular intervals in the first half before notching the vital goal after the restart.
The goal was indeed the crucial score as it gave Dublin a lead they never relinquished with the closest Kerry got thereafter one point down after 44 minutes following scores from David Clifford, the outstanding Paul Geaney and Sean O'Shea.
Dublin responded with three unanswered points to move four up as with outstanding duo Ciaran Kilkenny and Paul Mannion [two] kicking the scores to maintain their superb displays after both had been subdued two weeks ago.
Granted that period included O'Brien's missed 53rd-minute goal chance as he tried to beat Cluxton from close range after charging towards goal from the left edge of the large squad when perhaps a pass inside to the unmarked Geaney might have represented the better option.
Fitzsimons foul prevents Morley goal
Both sides made late changes with wing-back Murcan's inclusion in place of Michael Darragh Macauley resulting in James McCarthy's switch to midfield while Diarmuid O'Connor replaced skipper Gavin White in the Kingdom line-up.
Kilkenny and the speedy O'Callaghan were to the fore early as the Dubs notched five points from as many chances to move into a 0-5 to 0-1 lead after seven minutes.
Jim Gavin's side still looked in control at 0-7 to 0-3 up after 15 minutes but two Clifford points helped the Kingdom reduce Dublin's lead to one by the 20th minute with Geaney becoming increasingly influential.
Kerry's early tactic of lumping high balls into the Dublin defence hadn't proved effective but they soon switched to running at the Dublin defence and it enabled the Kingdom to have the better of the second quarter.
Dublin defender Michael Fitzsimons was fortunate to avoid a black card when his side led 0-9 to 0-7 as he hauled down Tadhg Morley as the Kerry wing-back looked set to pull the trigger on the edge of the large square, with referee Conor Lane instead giving a tick to O'Callaghan in a clear case of mistaken identity.
By half-time, Kerry were on terms after an O'Shea free and superb Geaney point tied the scoreline at 0-10 to 0-10.
Murchan goal the crucial moment
However, just as in Dublin's semi-final win Mayo, the moments after the restart were to prove crucial as Murchan won possession immediately from the throw-in before charging straight through the middle of the Kingdom defence and nonchalantly finishing past Shane Ryan with the outside of his right boot.
An immediate further O'Callaghan point extended the Dubs lead to four and while Kerry cut the margin to one by the 44th minute, they were never able to get on terms.
Having introduced Diarmuid Connolly for the injured Jack McCaffrey at half-time, Dublin's bench also saw players of the quality of Philly McMahon, Cormac Costello and Kevin McManamon introduced.
Kingdom supporters will ruefully look back on O'Brien's missed goal chance and a number of second-half wides - including two David Moran misses - which brought their tally to 10.
But Dublin, helped by their reinforcements, controlled the closing 15 minutes of action as Kerry's brave challenge finally ran out of legs, with Connolly having a late Dubs goal chance saved in injury-time.
Dublin: S Cluxton; D Byrne (0-1), M Fitzsimons, J Cooper; J McCaffrey, J Small, E Murchan (1-0); B Fenton, J McCarthy (0-1); N Scully (0-1), C Kilkenny (0-5), B Howard; P Mannion (0-4), C O'Callaghan (0-3), D Rock (0-3, 1 f). Subs: D Connolly for McCaffrey half-time; P McMahon for Murchan 54; C Costello for Scully 57; C O'Sullivan for Byrne 67; K McMamamon for Mannion 67; MD Macauley for Howard 73
Kerry: S Ryan; J Foley, T Morley, T O'Sullivan; P Murphy, G Crowley, B Ó Beaglaoích; D Moran, J Barry; D O'Connor, S O'Shea (0-5, 3f), S O'Brien; D Clifford (0-5, 1f, P Geaney (0-4), A Spillane (0-1). Subs: G White fo Spillane 51; J Sherwood for Ó Beaglaoich 51; T Walsh for O'Connor 54; K Spillane for Murphy 59; J O'Donoghue for Barry 64; D Moynihan for Crowley 71.
Referee: C Lane (Cork)