Mickey Harte 'happy' as Tyrone maintain RTE boycott for All-Ireland Final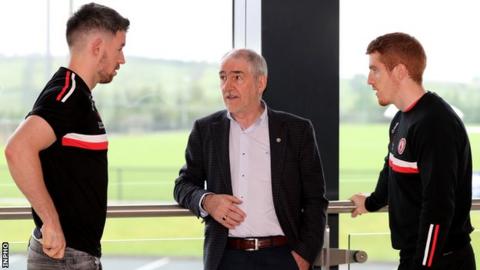 Tyrone manager Mickey Harte says he is "happy" the county have rejected a request from RTE in advance of the All-Ireland Final to end its non-engagement with the Irish national broadcaster.
RTE released a statement on Monday saying it "respected" Tyrone's decision to continue the policy which has been in place since 2011.
"I'm happy with that," said Harte when asked about Tyrone's response.
Harte was speaking at a specially arranged Tyrone media event.
The Tyrone manager's grievance with RTE stemmed from two issues that arose seven years ago.
The first involved the apparent leaking of a letter sent to RTE which the Tyrone manager had put his name to about the deployment of his friend, the RTE broadcaster Brian Carthy.
Harte was then infuriated by an attempted comedy sketch about him which appeared on the Irish national broadcaster less than six months after the murder of his daughter Michaela in Mauritius.
Tyrone's decision to reject RTE's overtures mean that the winners' banquet will not be part of the broadcaster's All-Ireland final coverage if the Red Hands shock four-in-a-row seeking Dublin on 2 September.
Keyboard warriors wasting their time - Harte
While RTE were not present, Harte made himself available to other broadcasters as well as print and online media at Monday's gathering in Garvaghey.
In a wide-ranging discussion, Harte told those who criticise him on social media that they are wasting their own time because "I don't even read it".
Despite qualifying for a first All-Ireland Final appearance in 10 years, Tyrone continue to divide opinion going into the decider against Dublin.
However, Harte says the "snipers who come at you from a distance" have no impact on him.
"I don't know about it so there's no value in it," said the Tyrone boss.
"They might as well not do it. It's only good if you take it on and make it feel like it hurts you but it doesn't have that impact on me.
"There's an awful lot of people - I'm sorry to tell them, they will be very disappointed - with stuff they say about me that's not nice which I don't even read.
"That's part and parcel of the modern world we live in," added Harte at a Tyrone news conference at the county's GAA Centre in advance of the All-Ireland final.
Harte says pundits views can be 'cheap shots'
Philip Jordan, Sean Cavanagh, Owen Mulligan and Enda McGinley are among former members of Harte's Tyrone side who have joined the ever-expanding world of GAA punditry and the Red Hand boss says that he does give a degree of credibility to media columnists.
"If they have substance to back it (their opinion) up, I'll appreciate it. If they haven't, I'll recognise it for what it is, a cheap shot.
"Everybody has their opinion and sometimes that opinion is solicited to make a headline and I understand that.
"I learnt a long time ago that we shouldn't determine how well we feel ourselves by what somebody else says.
"That's really handing away the power of your own well-being to somebody else."
Harte confirmed that Tyrone's medical staff are optimistic Conor Meyler will be available for the All-Ireland decider on 2 September as he continues to recover well from a knee injury which forced him to miss the semi-final win over Monaghan.
"The signs are positive that he will be available for some part of this final," added Harte of Meyler, who was injured in Tyrone's last Super 8s game against Donegal.