Liam Miller tribute match: GAA 'U-turn' on benefit game for late footballer confirmed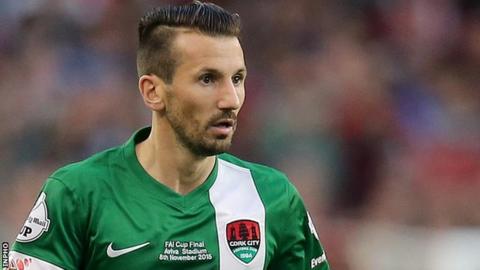 A tribute match in memory of former Republic of Ireland midfielder Liam Miller has been given the go-ahead on Saturday by the Gaelic Athletic Association.
The decision follows discussions with Croke Park's Management Committee and Central Council on Saturday morning.
The GAA had originally refused to host the match at its Pairc Ui Chaoimh ground in Cork.
A GAA event in advance of the 25 September game will also take place.
There is speculation this could be a GAA game involving Miller's home club Eire Og to raise money for injured gaelic players.
The GAA is an amateur sporting and cultural organisation, focused primarily on promoting indigenous Gaelic games and pastimes, including Gaelic football and hurling.
The association refused to host the game as its rules do not permit non-GAA sports at its venues, but the body's powerful management committee met on Friday to discuss a new interpretation of the relevant rule.
Former Celtic, Manchester United and Sunderland player Miller, who was from Cork, died in February at the age of 36 from cancer.
He played Gaelic football and hurling with Eire Og as a youngster before embarking on his football career.
The GAA's decision not to allow the benefit football match, which will take place on 25 September, to be played at the 45,000-capacity Pairc Ui Chaoimh came in for widespread criticism.
Arrangements were then made for the benefit game to be staged at Cork City Football Club's Turner's Cross stadium, which can accommodate 7,500 spectators.
The match is to raise money for Miller's family and for charities.
Former Republic of Ireland captain Roy Keane will manage a Manchester United Legends team against a combined Celtic/Ireland side in the testimonial game, with ex-internationals Robbie Keane and Damien Duff also expected to participate.