Super 8 series: Donegal want Dublin venue switch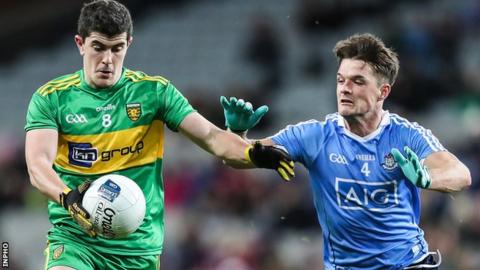 Donegal are unhappy that their opening Super 8 match against Dublin on 14 July will be played at Croke Park.
The county board is seeking to to meet with the GAA on Thursday in a bid to get the venue for the game changed.
Donegal believe Dublin should not have two of their three round-robin fixtures at their 'home' venue of Croke Park.
"The intention of the meeting is to ensure a level playing field for every team who qualify and ensure no team has any advantage," said the Donegal board.
The new format sees each side play a home and away fixture and one at Croke Park.
There is a 19:00 BST throw-in for the match while Kerry will take on Galway at Croke Park in another first round encounter the following day at 16:00.
The remaining Super 8 fixtures will be confirmed after the final round of All-Ireland qualifiers this weekend.
There could be five Ulster teams in the Super 8 series with Tyrone, Armagh, Fermanagh and Monaghan competing in the round four qualifiers.
Dublin and Donegal will be joined in Group Two with the winners of Cork v Tyrone and Roscommon v Armagh.
Group One comprises Kerry and Galway with the victors of Fermanagh v Kildare and Laois v Monaghan.