Ulster SFC: Donegal leading the change in playing style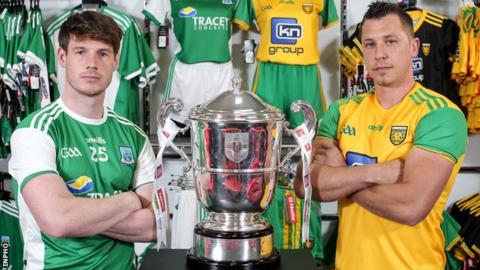 Ulster Senior Football Championship final
Venue: St Tiernach's Park, Clones Date: Sunday, 24 June Throw-in: 14:00 BST
Coverage: Live commentary on BBC2 NI, BBC Radio Ulster 1341 Medium Wave and the BBC Sport website
The two contestants in Sunday's Ulster final travel to Clones from opposite ends of the gaelic football spectrum.
Fermanagh have honed the ultra-defensive style Rory Gallagher helped to instigate in Donegal and are now one win away from their first Ulster title.
But Donegal boss Declan Bonner has eschewed the tactics used by Gallagher and Jim McGuinness to introduce an ambitious attacking approach.
Sunday's final is a clash of concepts as much it is a contest of skill.
Prompted by goalkeeper Shaun Patton's kick outs, Donegal have adopted a game plan based upon the pace of their half-backs and the scoring ability of Patrick McBrearty, Jamie Brennan and captain Michael Murphy.
Bonner's side have enjoyed dominant wins over Cavan, Derry and Down in this year's championship, scoring an average of over 2-14 from play in those three matches.
Their style of play is a far cry from the modern perception of Ulster football and instead appears to be based on the tactics used by Dublin to win three consecutive All-Ireland titles.
"There's always aspects of our game we have to get better on, there's no doubt," said Bonner.
"It's about mixing that offensive [style] with getting the defensive side right. Going forward we've been pretty decent, we still have work to do, and it's just about getting that blend right between attack and defence and that's what we've been working on."
Range of styles
In contrast, Fermanagh have chosen to contain, rather than out score, their opponents and Gallagher has marshalled his players into a well-organised team that defends as a unit and forces their opponents into making costly errors.
The Ernesiders have conceded just 17 points from their victories over Armagh and Monaghan this season and seem certain to continue that conservative approach in Clones on Sunday.
The two finalists embody the range of styles sweeping through modern inter-county football as weaker teams battle to compete with better-resourced sides.
"It's fascinating. You come up against different defensive systems and offensive systems and I still think the game is in a good place to be quite honest," added Bonner.
"You look at the top teams, the likes of Dublin, who play a really good brand of football, and Kerry, who have a lot of young lads coming through also looking to play a good brand of football.
"We're not saying we're one of those top teams yet but we are trying to play that brand of football.
"It's very difficult and no two games are the same. We know this Sunday is going to be difficult and we know how Fermanagh are probably going to set up but we've got to be ready for that challenge.
"We've trained over the last couple of weeks in terms of getting ready for this Ulster final and trying to look at avenues where we can hurt Fermanagh."
His time just ran out
Gallagher's remarkable transformation of Fermanagh's fortunes comes less than a year since his resignation as Donegal manager after a seven-year involvement with the squad.
He now has the opportunity to lead his native county to their first Ulster title, but standing in the way are a group of Donegal players that he will know better than almost anyone else in the country.
Donegal centre-back Paul Brennan admits that their former manager will be well-versed in their strengths and weaknesses but points out that he and his team-mates will also know what to expect in Clones.
"They look very fit, they're going to be in our faces a lot, they're going to get back and maybe try and play a very defensive system and they're going to be well keyed in to their roles from knowing Rory last year," said Brennan.
"They're going to probably play a more defensive system again than the Monaghan game last time. I think we have more of an attacking threat and they'll probably try and catch us on the break if they get the ball turned over."
The former Leitrim footballer also expects Gallagher to double down on the style of play that he has embraced throughout his coaching career.
"He will want to be aggressive with us, he will want them to get in our faces and look for turnovers and then attack on the break, I think that's what he'll try and bring to the table with them.
"He's done a lot with Fermanagh this year and you can't take that away from him. He's got them promoted and into an Ulster final, I think if you asked anyone in Fermanagh they would probably say he's a great manager.
"In Donegal he's done good things too but maybe his time just ran out or ran it's course but, in Fermanagh, you would rate him as a good manager."