Ulster SFC semi-final: Fermanagh believe in the cult of Rory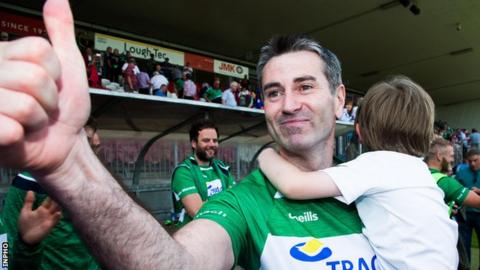 In years to come, when the story of Fermanagh's march to the 2018 Ulster final is retold, Eoin Donnelly's late goal will be hailed as an audacious solo act.
The Fermanagh captain seemed to be chasing in hope rather than design when he got the decisive touch on an apparent botched point attempt by Ryan Jones - but it was no fluke.
"We felt there was a wee vulnerability with the high ball dropping in and it came through," said Fermanagh boss Rory Gallagher in the breathless aftermath.
Monaghan are not considered among the best teams in the country for nothing and Malachy O'Rourke's men fashioned one last, heart-stopping chance to level the tie.
In the dying seconds and with the match on the line, Conor McManus watched as his shot kept curling until it fell wide of the posts.
The Monaghan players slumped to the ground in despair.
On a sweltering day in Omagh, their hopes of a third Ulster title in five years had been strangled by a ruthlessly drilled Fermanagh side.
Afterwards, as the supporters spilled out onto the pitch and mingled with the players, Gallagher delivered his analysis.
As controlled as possible
"At times it looked as if they were panicking but we went out to play as controlled a game as possible, one that we thought suits the players we have playing against Monaghan, and we're just over the moon," he said.
"We sat down and watched Tyrone and Monaghan and we thought we could come up with a way of trying to counteract Monaghan.
"We'll watch the [Donegal-Down] semi-final next week - it's a wonderful place to be."
The last time Fermanagh were involved in an Ulster final, Gallagher was sitting in the stands giving his analysis as a BBC pundit when he might have been better employed out on the field.
It has taken a decade for the only county never to win the Anglo-Celt to force their way back to the provincial final and it is no surprise that Gallagher is centrally involved in ending that famine.
Gallagher and his lieutenant Ryan McMenamin are a dynamic presence on the sideline, constantly cajoling and directing their players into position, and the pair celebrated wildly as the final whistle rang out around Healy Park.
Prodigal son
Gallagher was, for so long, his county's most mercurial footballer before he was cast aside for a life in exile in Belfast, Dublin and Donegal.
This summer, the prodigal son has returned with a steely resolve and a hard-nosed pragmatism.
The Belleek native was no stranger to run-ins with management as a player but he had no hesitation in dropping Seamus Quigley - his best forward against Armagh - for a breach of team discipline in the build-up to the semi-final.
Quigley was still made to take part in the pre-match warm-up in a substitute's bib even though he must have known he would play no part in the game - leaving his brother Sean to shoulder the burden of leading the attack.
It is a measure of Gallagher's man-management and tactical acumen that he could bench his star forward and still secure his county's first win over Monaghan in a decade.
The cult of the manager has never been stronger than it is this season in Ulster football.
Micky Harte, Kieran McGeeney, Declan Bonner and Malachy O'Rourke have all earned the respect of their peers by moulding their teams in their own image.
Gallagher is doing the very same on the banks of the Erne.