Ulster SFC semi-final: Monaghan 0-10 Fermanagh 1-8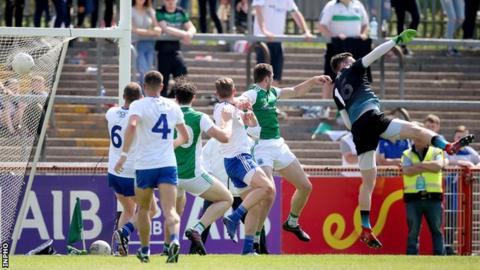 Fermanagh are through to the Ulster SFC final for the first time in 10 years after stunning Monaghan with a thrilling victory at Healy Park.
The Ernesiders have never won the Anglo-Celt but by the measure of this one-point win it will take a serious team to deny them provincial glory.
Eoin Donnelly's injury-time goal clinched a dramatic upset after a tense tactical battle at Healy Park.
Monaghan had a chance to force extra-time but Conor McManus fired wide.
In a tie that had been billed as a match-up between two of the best managerial minds in the game, Fermanagh boss Rory Gallagher got the better of his former team-mate Malachy O'Rourke with a hard-working defensive approach that nullified their opponent's strengths.
Fermanagh can now prepare for a trip to Clones on 24 June while Monaghan will try to salvage their season once again through the qualifier route.
Cagey start
Gallagher's decision to withdraw Seamus Quigley from the starting side and hold his star forward in reserve hinted at the tactical battle that was about to unfold at Healy Park.
Both teams chose to pour bodies back into defence during a cagey opening five minutes that did not produce a score.
The opening point, when it did come, was a superb effort from Fermanagh wing-forward Aidan Breen, which set the early tone for the underdogs.
With Donnelly and Ryan Jones winning the midfield battle and putting pressure on Rory Beggan's restarts, Fermanagh surged into a three-point lead thanks to a free by Sean Quigley and another impressive score by Breen.
Beggan missed a long-range free and Jack McCarron fired wide from in front of the posts as Monaghan appeared to be in trouble - taking until the 17th minute to register their opening score through a McManus free.
Farney form deserts them
Monaghan were unquestionably rattled and the memories of their shock Ulster semi-final loss to Down must have begun to haunt them as Sean Quigley kicked two more frees to push Fermanagh into a 0-5 to 0-1 lead.
Monaghan's passing was off-colour as balls were dropped or dribbled over the sideline instead of finding their intended targets.
Karl O'Connell was one of the few Farneymen who was taking the fight to his opponents as the powerful midfielder won a series of frees for McManus to convert.
Just one point separated the sides in first-half stoppage time before Conall Jones curled over a right-footed beauty for the score of the half that gave Fermanagh a 0-6 to 0-4 advantage at the break.
Fight back begins
Having been so thoroughly out-played in the opening half, Monaghan began the process of fighting their way back into the match.
Ryan McAnespie's superb point was the only score of the opening 20 minutes of the second half before Drew Wylie came up from defence to land an inspirational score that pushed Monaghan into the lead for the first time in the 60th minute.
From that point onwards, O'Rourke's side seemed the most likely winners with team captain Colin Walshe coming off the bench to add another exceptional point.
Fermanagh's Ruairi Corrigan was shown a black card just seconds later and from the resulting free McManus gave Monaghan a two-point lead for the first time as the 70th minute approached.
Donnelly snatches it
Drew Wylie kicked another point as the first minutes of injury time began and the veteran defender wheeled away in celebration as he jogged back towards his goal.
But there was still one final dramatic act to this engrossing arm-wrestle as Fermanagh went in search of a way back into the game.
Ryan Jones was forced into going for an ambitious point from out on the right but his effort was falling short of the posts before his midfielder partner Donnelly stole in to flick the ball over the head of the on-rushing Beggan.
Donnelly's celebration was cut short by Vinny Corey, who earned a black card for his reaction, but the stoppage in play allowed the Ernemen to reshape their defence and prepare for the inevitable response.
The stunned crowd was just beginning to find its voice again as Monaghan surged forward in search of a dramatic leveller.
They finally managed to work the ball to McManus and the talismanic forward twisted one way and then another before finding a yard of space but his right-footed effort cruelly faded wide of the posts and with it went his side's final hope of victory.
Monaghan: R Beggan, K Duffy, D Wylie (0-2), R Wylie, D Mone, V Corey, F Kelly (0-1), K O'Connell, D Hughes, K Hughes, N Kearns, D Ward, R McAnespie (0-1), J McCarron, C McManus (0-5).
Replacements: C Forde, C Boyle for D Mone 65, B Kerr, C Walshe (0-1) for F Kelly 51, N McAdam, P McKenna, D Malone for D Ward 40, O Duffy for K Hughes 55, C McCarthy for J McCarron 40, D Garland, S Carey.
Fermanagh: P Cadden, K Connor, C Cullen, M Jones, B Mulrone, J McMahon, Lee Cullen, Eoin Donnolly, Ryan Jones, P McCusker, D McCusker, A Breen (0-2), Sean Quigley (0-3), C Jones (0-1), C Corrigan.
Replacements: T Treacy, C McManus for A Breen 65, Seamus Quigley, E McHugh, T Clarke for C Corrigan 61, R Corrigan for P McCusker 71, D Teague for M Jones 43, T Corrigan for S Quigley 53, R Lyons for C Jones 62, E Maguire, R McCloskey.