Christy Ring Cup: Down beat London 2-22 to 1-23 for back-to-back wins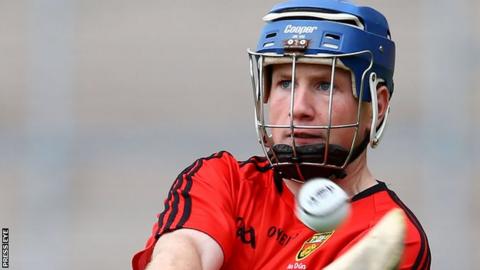 A late Daithi Sands goal helped Down to back-to-back wins in the Christy Ring Cup, with a 2-22 to 1-23 win over London at Ruislip on Sunday.
A Danny Toner goal edged Down 1-6 to 0-8 in front but London drew level before the hosts moved 1-12 to 1-10 ahead at the break with Aaron Sheehan's goal.
The teams were tied at 1-18 apiece with 10 minutes left but Sands nudged Down 2-20 to 1-21 ahead with five remaining.
Neither side found a score in injury time as Down ran out two point winners.
Paul Sheehan got the all-clear to play after an MRI scan during the week following a bicep tear in last weekend's win over Armagh.
The Newry Shamrocks clubman had a major say in this game, but it was the hosts who began brightly.
London take early lead
Kevin O'Loughlin fired two points from play in the opening two minutes, before two from Shane Lawless saw London move 0-4 to 0-1 ahead.
Down worked hard to cut the gap with Caolan Baille opening their tally, and the Mourne County added two more scores to ensure the minimum between the sides after 13 minutes.
London continued to shade this contest with scores from Richie Murphy and Colin Nelson, but Sheehan kept Down in touch from placed balls.
A Murphy pointed free ensured London held a 0-8 to 0-5 lead with 10 minutes to go before the break but Toner's goal edged Down 1-6 to 0-8 in front.
London drew level, before the hosts moved 1-12 to 1-10 ahead at the break, with Cork native Aaron Sheehan firing a goal late in the half.
Closely contested second half
Little separated the sides on the re-start, with the scores tied at 1-13 a piece in the 39th minute, with Nelson adding a London point.
Five unanswered scores pushed Down 1-15 to 1-13 ahead, before London cut the gap through Cillian Burke 10 minutes into the half.
Both teams were really keen, and after a Nelson equaliser the full-forward added another to edge the hosts back in front.
Paul Sheehan added another for Down, before Declan McManus and Shane Lawless swapped scores.
At 1-18 each the game was finely poised, but London moved three points clear with Aaron Sheehan superb.
Sands found the net and despite the closing stages being closely contested, neither side could add to their score in five minutes of additional time.