Casement Park: Stormont hiatus could further delay project says Ulster GAA boss
Last updated on .From the section Gaelic Games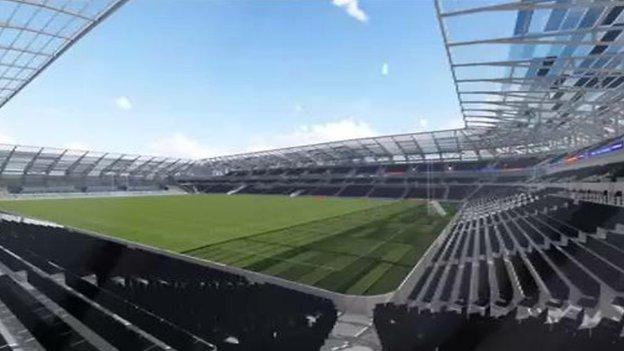 Ulster GAA secretary Brian McAvoy is worried the absence of ministers in Northern Ireland could further delay the Casement Park project.
A fresh planning application for the redevelopment was lodged last February after initial approval for the scheme was quashed by the High Court in 2014.
A decision on the new application is expected at some stage this year.
Mr McAvoy said any further details caused by "political inactivity would be most unfortunate and even ironic".
"It remains a concern that there is currently no minister (local or direct rule) for the planners to make a recommendation to," said the Ulster GAA secretary in his annual report which will be delivered to the province's annual convention in Ballybofey on 26 January.
"The legal position regarding the ability of senior civil servants to take decisions on regionally significant planning applications is the matter of a judicial process on the ARC 21 incinerator project, which is due for hearing next month.
"It will be interesting and potentially relevant for the outcome on the Casement Park application."
The Ulster GAA secretary acknowledged that the delays in the project means that the costs of the Casement project is now certain to be in excess of the initially projected £77.5m.
"But ongoing discussions indicate a willingness and commitment from both the GAA and from Government to deliver on the obligations of funding agreements and commercial contracts to deliver the stadium."
The multi-million project has been beset with problems and delays which has included a west Belfast residents group's continuing objections to the plans.
In his wide-ranging report, the Ulster secretary also says that consideration should be given to seeding the provincial football championship preliminary round so that counties are not continually finding themselves involved in the opening game.
"I believe that there is merit in introducing a scenario whereby a team that is drawn to play in the preliminary Round in a given year should be exempt for a period of time from playing in it again.
"An exemption for two or three years would be reasonable."