All-Ireland Junior Ladies Football Final: Fermanagh beat Derry in replay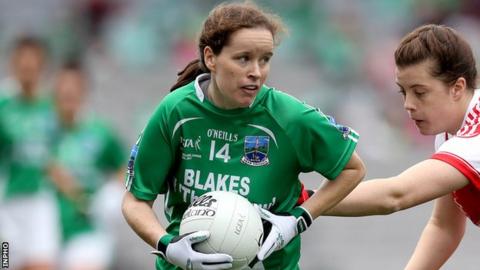 Fermanagh beat Derry 2-9 to 0-11 in Sunday's All-Ireland Ladies Junior Football final replay at Clones.
The Erne women led 1-4 to 0-5 at half-time with the help of a goal from Blaithin Bogue.
Joanne Doonan, who like Bogue was drafted into the started team by manager Emmet Curry, scored Fermanagh's second goal in the second half.
Derry had led 2-9 to 1-3 in the initial game two weeks ago but Sharon Murphy's last-gasp penalty had snatched a draw.
Fermanagh had previously beaten Derry four times this year, but the replay proved to be another closely contested affair.
Bogue again played a significant part after being handed a start following her impressive substitute's contribution a fortnight ago.
Two points from Lisa Maguire and one from Murphy helped Fermanagh into an early three-point lead in the replay and the score stood at 0-4 to 0-2 before Bogue's goal extended the lead to five points.
Three unanswered points from Derry before the break, through Jackie Donnelly, Emma Doherty and Annie Crozier, reduced the Oak Leaf women's deficit to two.
Doherty was prolific for Derry in the second half as her side drew level at 0-8 to 1-5, but Doonan's goal, following a mistake by goalkeeper Cheree Mackey, nudged Fermanagh in front again.
The eventual winners built up a six-point lead at one stage, 2-9 to 0-9, but their opponents responded with a couple of late consolation scores.