Kilcoo clinch a sixth straight Down Football title as they edge out Burren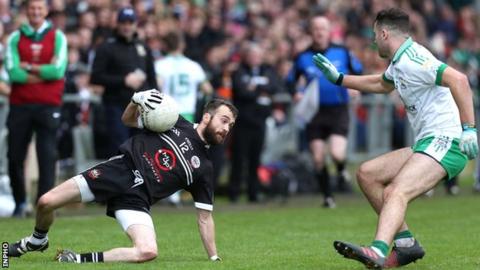 Kilcoo clinched a sixth successive Down Football title as they edged out Burren 0-13 to 0-11 at Newry.
Four Donal O'Hare points helped Burren lead 0-7 to 0-6 at half-time and the St Mary's club still led 0-9 to 0-8 five minutes into the second half.
However, Kilcoo hit five of the last seven points as Dylan Ward and Paul Devlin both finished with four points.
Burren, who won six straight titles in the 1980s, had Conaill McGovern sent off in the closing stages.
McGovern was dismissed for striking his Down team-mate Devlin while Kilcoo also finished the game with 14 players when Devlin was black carded after they had used all their substitutes.
For Burren, it was a third county final defeat to the Magpies in five years following similar outcomes in 2013 and 2014.
Burren hit opening three scores
Helped by the wind, Burren nailed the opening three scores in the first four minutes with O'Hare notching all three.
Burren sweeper Kevin McKernan was effective early on as he won a few turnovers but Ward got the champions on the board after 10 minutes and Paul Devlin's free further reduced the deficit.
However, Burren moved three up again when an excellent Ryan Treanor point was followed by a 45 from keeper Cathal Murdock, after Connor Toner's goal-bound shot had been blocked by Ryan Johnston.
Kilcoo wasted a chance to immediately level as Darragh O'Hanlon blazed a 19th-minute penalty over the bar but Devlin's second point and a Conor Laverty point did level proceedings although Burren were back in front at 0-7 to 0-6 by the interval.
The holders stamped their authority all over the second half with Johnston and Ward points putting them in front just three minutes after the break.
Twice more Burren responded through Murdock and O'Hare, but once Ward levelled it at 0-09 apiece in the 39th minute, Kilcoo took over.
Misplaced Burren passes were punished as Kilcoo outscored them five points to two in the last 20 minutes.
As Burren frantically chased the game in the closing moments, O'Hare and Shay McArdle had late goalbound shots cleared as Kilcoo joined them as the only Down clubs to win sixth successive Frank O'Hare Cups.
Derrygonnelly secure Fermanagh three-in-a-row
Derrygonnelly clinched their third successive Fermanagh title as they accounted for Devenish 0-15 to 0-8 at Enniskillen.
Devenish relied heavily on Terry O'Flanagan's frees for scores as he notched six of their points.
His early points helped Devenish lead 0-2 to 0-0 and 0-3 to 0-2 but Derrygonnelly hit six of the final seven scores before half-time to move into a 0-9 to 0-5 advantage.
Derrygonnelly's lead could have been even greater as Paul Ward had a great goal chance saved by Thomas Treacy before he also hammered against the woodwork before half-time.
With Derrygonnelly's scorers continuing to be spread around their side, they extended their advantage to 0-13 to 0-6 to end any prospect of a Devenish revival.
Niall Kelly's 59th-minute goal helped Errigal Ciaran reach their first Tyrone Football Final since 2012 as they edged out Pomeroy 1-12 to 0-11 to set up a decider against Omagh St Enda's.
Meanwhile, Cargin fought back from being 0-10 to 0-5 down midway through the second half to earn a 0-11 to 0-11 draw against St John's in the Antrim Football semi-final.
St John's still led 0-11 to 0-8 with three minutes of normal time left but Cargin levelled in the second minute of injury-time and four further minutes of stoppage time could not separate the sides as they had to settle for a replay.
Kilcoo scorers: D Ward 0-04, P Devlin 0-04 (4f), J Johnston 0-02, C Laverty 0-01, D O'Hanlon 0-01, A Morgan 0-01
Burren scorers: D O'Hare 0-06 (3f), C Murdock 0-02 ('45', 1f), K McKernan 0-01, R Treanor 0-01, D McCartan 0-01
Kilcoo: S Kane; N Branagan, D O'Hanlon, D Ward; Aaron Branagan, Aidan Brnagan, D Branagan; F McGreevy, A Morgan; R Johnston, P Devlin, C Laverty; J Johnston, C Doherty, M Devlin Subs: E Branagan for R Johnston (38), J McClean for M Devlin (39), JJ McLaughlin for Aidan Branagan (52), D Kane for McClean (BC, 55), S O'Hanlon for D Branagan (BC, 58)
Burren: C Murdock; J McGovern, G McGovern, S Fegan; D Rooney, C Cox, C Foy; M McKay, C Toner; R Treanor, D O'Hare, S McArdle; Conaill McGovern, K McKernan, D McEntee Subs: S Murdock for Treanor (41), Ciaran McGovern for J McGovern (41), D McCartan for McKay (53), P Poland for McEntee (53), E Toner for C Toner (59)
Referee: Paul Faloon
WEEKEND CLUB RESULTS
SUNDAY
Morgan Fuels Down SFC final
Kilcoo 0-13 0-11 Burren
Quinn Building Products Fermanagh SFC final
Derrygonnelly 0-15 0-08 Devenish
Northern Switchgear Antrim SFC semi-final
Cargin 0-11 0-11 St John's
Donnelly Vauxhall Tyrone SFC semi-final
Errigal Ciaran 1-12 0-11 Pomeroy
SATURDAY
Antrim SFC semi-final
Creggan 1-09 1-13 Lamh Dhearg
Tyrone SFC semi-final
Omagh 1-11 1-10 Trillick
Donnelly Group Armagh SFC semi-final
Maghery 2-13 0-16 Crossmaglen
Michael Murphy Sports Donegal SFC semi-final
Naomh Conaill 1-13 1-12 Gweedore, Ballybofey
FRIDAY
Armagh SFC semi-final
Ballymacnab 0-11 1-13 Armagh Harps