Tyrone v Armagh: Oisin McConville & Enda McGinley look for chinks in opposition
Last updated on .From the section Gaelic Games
All-Ireland SFC quarter-finals: Tyrone v Armagh; Dublin v Monaghan
Venue:
Croke Park, Dublin
Date:
Saturday, 5 August
Throw-ins:
16:00 BST and 18:00
Coverage:
Live commentary on BBC Radio Ulster MW and the BBC Sport website
Former Armagh and Tyrone stars Oisin McConville and Enda McGinley have been indulging in some gentle mind games as Saturday's big All-Ireland quarter-final between the counties approaches.
McGinley believes McConville was clutching at straws when he claimed on Radio Ulster that Tyrone's championship form to date has been over-rated.
"Beating Derry, Donegal and Down wasn't the greatest form ever," says Oisin.
"Given the way those teams have gone out of the championship."
McConville says Tyrone may have 'nagging doubts'
2002 All-Ireland winner McConville even ventured that Tyrone's players may even have nagging doubts themselves about whether they have been fully tested yet this summer.
However McGinley, part of the Red Hand squad which clinched the Sam Maguire Cup in 2003, 2005 and 2008, believes Tyrone's victory over Donegal remains the best display of the football championship summer to date despite Donegal's subsequent poor form.
"The performance by Tyrone in that Donegal game was excellent," insists McGinley.
"Tyrone broke Donegal that day and Donegal have gone on and played poorly since. Tyrone have lost credit for that performance.
"Oisin is just playing the typical Armagh mind games, trying to put wee chinks in Tyrone's confidence."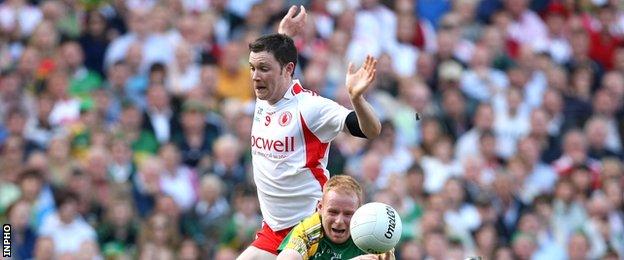 McGinley believes Tyrone won't fall for such talk, adding that Mickey Harte's players will be focusing their energy on the fact the contest is at the last-eight stage as opposed to the opposition.
"The biggest thing for Tyrone and those Tyrone players is not Armagh necessarily but actually last year's performance against Mayo in the quarter-finals where they just completely under-performed.
"All year, they have been gunning for this quarter-final to right the wrongs from last year as they see it.
"Now that it happens to be Armagh, that is lovely. Everybody is looking forward to it. It should be a great game but I think Tyrone are gunning for bigger things."
McGinley liked the mood music in the Tyrone camp after their Ulster Final win over Down.
"Last year when they won the Ulster final, there was great jubilation after it. Everybody expected Tyrone as they usually do, to kick on when they hit Croke Park but instead they seemed to go into their shells against Mayo.
"The way Tyrone talked after this year's Ulster final was key for me. They said it was great but it was just job done and that they really had to push on.
"Tyrone, essentially, have to throw off the shackles against Armagh and as Oisin says, you want to see both teams really going at it."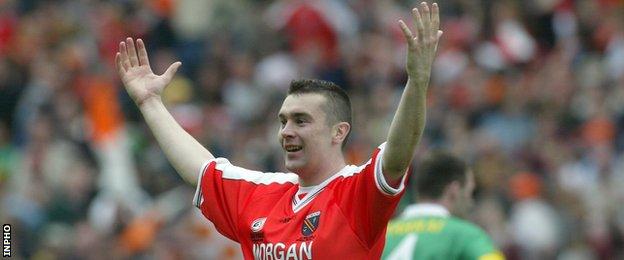 McConville adds that there is no comparison between the belief that Armagh lacked when they meekly lost to Down in early June to the self-confidence the Orchard men now possess.
The former All-Star believes the Armagh players will go into Saturday's game genuinely believing they can shock Tyrone.
"This is Armagh's final. I don't Armagh are capable of going on and putting three big games together and winning an All-Ireland.
"We have already exceeded expectations in getting to a quarter-final. But while last Saturday when we left the ground, Armagh supporters were saying that whatever happens from now on is bonus territory but then Tyrone came out of the hat on Sunday and all of that talk was completely scrubbed.
"Armagh supporters are now thinking that if we can put up a performance similar or even better than last week's against Kildare, that we have a chance of winning this game."
All-Ireland Senior Football Championship quarter-finals - Saturday 5 August

Tyrone
v
Armagh

16:00

Dublin
v
Monaghan

18:00