Football League Division Two: Down escape as Fermanagh and Derry are relegated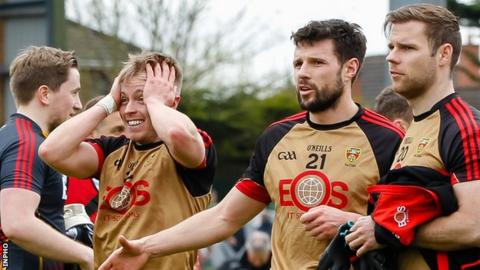 Down pulled off a great escape as their last-gasp draw away to Cork proved enough to keep them in Division Two of the Football League.
Fermanagh were relegated on a dramatic last day when Carlus McWilliams scored with the last kick of the game to give Derry a one-point victory.
The win at Brewster Park was not enough to save Derry, though, as they went down on points difference.
Galway and Kildare will meet in the Division Two final on 9 April.
Down had looked doomed, but they saved themselves from relegation when Jerome Johnston's late point salvaged a draw at Pairc ui Rinn.
The Mourne county finished the seven-match league campaign on five points, the same as Clare and Derry.
Fermanagh had looked to be well on the way to securing their survival as they recovered from conceding a first-minute goal to lead Derry by four points.
Conor McAtamney got that goal after just 15 seconds when Niall Loughlin flicked on straight from the throw-in.
It was a second McAtamney goal after the interval which hauled the Oak Leaf county level and they edged ahead through Enda Lynn.
James Kielt landed three points for Derry before being red-carded for a striking offence.
Sean Quigley converted seven frees and a 45 but it was a hugely disappointing end to the Division Two series for his Fermanagh team as McWilliams scored with a hopeful effort right at the end.
Allianz Football League Division One
Kerry
1-21
Tyrone
2-11
Mayo
1-12
Donegal
0-13
Monaghan
1-15
Dublin
2-15
Roscommon
1-13
Cavan
1-10
Division Two
Clare
1-13
Meath
3-19
Cork
1-10
Down
0-13
Fermanagh
0-13
Derry
2-08
Galway
0-14
Kildare
0-13
Division Three
Armagh
0-16
Tipperary
3-08
Louth
1-11
Sligo
0-17
Offaly
3-15
Laois
4-11
Antrim
1-13
Longford
0-16
Division Four
Carlow
2-14
Wexford
1-07
Leitrim
1-13
Waterford
2-08
Limerick
2-13
Wicklow
2-09
Westmeath
3-26
London
1-09
Allianz Football League finals (Croke Park)
Division One
Dublin
v
Kerry
9 April (16:00 BST)
Division Two
Galway
v
Kildare
9 April (14:00)
Division Three
Louth
v
Tipperary
8 April (17:00)
Division Four
Westmeath
v
Wexford
8 April (15:00)