Football League Division Two: Derry 0-11 1-8 Clare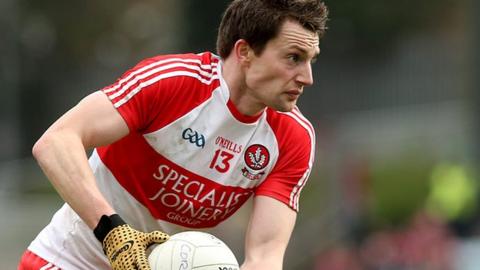 Derry forward James Kielt fired over deep into injury-time to secure a draw with Clare in the Division Two opener at Celtic Park on Sunday.
The Oak Leaf hosts edged a tight first half to go in with a 0-6 0-5 advantage at the interval.
Clare scored the only goal early in the second half to move in front with Jamie Malone finishing a slick move.
It remained close to the end and Clare went ahead in added time before Kielt clinched a point for the Ulster side.
The sides were level three times in a low-key first half which lacked intensity and bite.
Enda Lynn, Kielt and Carlus McWilliams each bagged two points for the Ulster side while Sean Collins also hit two for Sligo.
The visitors moved in front on 43 minutes when Malone palmed in after being set-up by Keith Sexton.
Oak Leafers equalise
Derry levelled with points from Niall Loughlin and Mark Lynch and no more than a point separated the teams for the remainder of the game.
Kielt had the final say with a cool finish to ensure Derry avoided a losing start to their league campaign.
"It was a fair result with both sides having goal chances," said Derry boss Damian Barton.
"Our decision making was not the best but it was a magnificent score from James at the end.
"I'm delighted to come away with something instead of nothing."
Allianz Football League Division One
Cavan
0-11 0-18
Dublin
Donegal
1-17 2-17
Kerry
Tyrone
0-18 1-09
Roscommon
Division Two
Derry
0-11 1-08
Clare
Galway
0-14 1-11
Cork
Meath
0-16 3-17
Kildare
Division Three
Sligo
1-14 2-11
Armagh
Tipperary
2-12 0-13
Antrim
Longford
1-12 0-10
Offaly
Division Four
Waterford
2-16 1-8
London
Westmeath
2-10 2-10
Carlow
Wicklow
0-10 1-17
Leitrim
Wexford
0-14 1-08
Limerick