GAA Inter-pros: Ulster games moved to Sunday because of Danny Murphy's funeral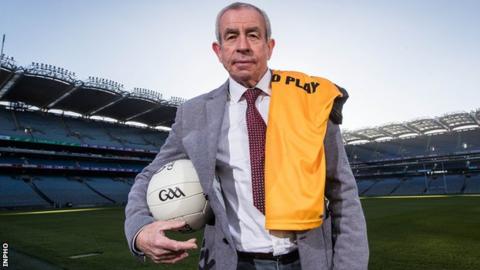 The inter-pro football semi-final between Ulster and Munster has been moved to Sunday because of the funeral of Ulster secretary Danny Murphy.
Mr Murphy, a long-serving Gaelic Games administrator, died on Thursday, aged 67, after a long illness.
His funeral takes place in Burren near Newry on Saturday at 12:00 GMT.
The Ulster/Munster game will be staged on Sunday at Dublin's Parnell Park (14:00 GMT) with the same provinces' hurlers in action at Thurles at 13:45.
The Leinster v Connacht fixtures will still be played on Saturday. The hurling semi-final is at MacDonagh Park, Nenagh, at 14:45, with the football taking place at Parnell Park at 18:00.
The semi-finals and finals are usually played over one weekend but the GAA's Central Competitions Control Committee will now have to work out dates and times for the finals.
Ulster manager Pete McGrath's 24-man football squad has seven players from Ulster champions Tyrone but interestingly, no representatives from beaten provincial finalists Donegal.
Keeper Niall Morgan is joined in the squad by his Tyrone team-mates Mattie Donnelly, Tiernan McCann, Connor McAliskey, Niall Sludden, Peter Harte and Mark Bradley.
McGrath's squad includes six of his own Fermanagh players, Aiden Breen, Michael Jones, Tomas Corrigan, Chris Snow, Eoin Donnelly and Declan McCusker (Fermanagh) while Donegal are the only Ulster county not to be represented.
Antrim dominate the Ulster hurling selection with 10 players with six Down players included.
The competitions did not take place last year because of bad weather.
Connacht are the holders of the football title and Leinster are the current hurling champions.
Ulster football squad: Kevin Niblock (Antrim), Niall McKeever (Antrim), Tony Kernan (Armagh), Charlie Vernon (Armagh), Killian Clarke (Cavan), Conor Moynagh (Cavan), Enda Lynn (Derry), Darren O'Hagan (Down), Ryan Johnston (Down), Gerard McGovern (Down), Aiden Breen (Fermanagh), Michael Jones (Fermanagh), Tomas Corrigan (Fermanagh), Chris Snow (Fermanagh), Eoin Donnelly (Fermanagh, capt), Declan McCusker (Fermanagh), Mattie Donnelly (Tyrone), Tiernan McCann (Tyrone), Niall Morgan (Tyrone), Connor McAliskey (Tyrone), Niall Sludden (Tyrone), Peter Harte (Tyrone), Mark Bradley (Tyrone).
Ulster hurling squad: Neal McAuley (Antrim), Simon McCrory (Antrim), Chrisy O'Connell (Antrim), Niall McKenna (Antrim), Paddy Burke (Antrim), Eoghan Campbell (Antrim), Ciaran Clark (Antrim), Ciaran Johnston (Antrim), Conor Johnston (Antrim), John Dillion (Antrim), John Corvan (Armagh), Connor Devlin (Armagh), Stephen Renaghan (Armagh), Conor Corvan (Armagh), Alan Grant (Derry), Oisin McCloskey (Derry), John McManus (Down), Caolan Taggart (Down) Danny Toner (Down), Conor Woods (Down), Stephen Keith (Down), Conor O'Prey (Down), Danny Cullen (Donegal).