Dessie Farrell will step down as chief executive of the GPA in December
Last updated on .From the section Gaelic Games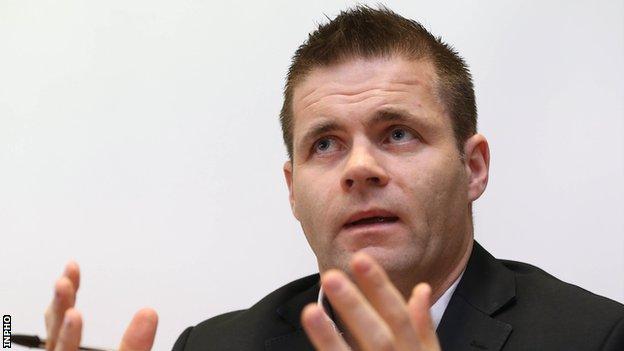 Dessie Farrell has revealed that he will step down as chief executive of the Gaelic Players' Association later this year.
Ex-Dublin star Farrell was a founder member of the players body in 1999 and served as chairman before being appointed as chief executive in 2003.
During Farrell's tenure, the GPA became officially recognised by the GAA as the formal inter-county players body.
The GPA will run an open recruitment process to appoint Farrell's successor.
Following the founding of the GPA, the GAA was initially trenchantly opposed to the new organisation and attempted to set up a players body of its own.
However, the GPA played a major role in convincing the Irish Government to introduce grants for inter-county players in 2007 and the continuing improvement in relations between players body and Croke Park was emphasised in July by the unveiling of a new £15.6m agreement to run from 2017-19 aimed at improving conditions for inter-county players.
In addition to his GPA role, Farrell has managed the Dublin minors and under-21s to All-Ireland titles in recent years.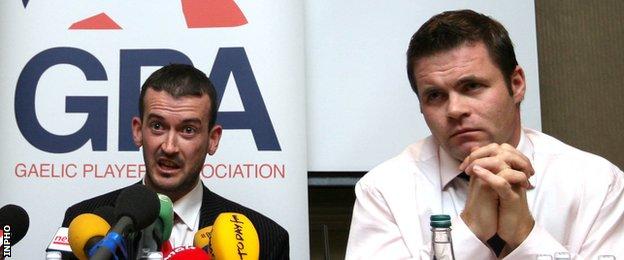 Speaking in a statement, Farrell said he was "extremely grateful to have involved in gaelic games throughout my life".
"I have been fortunate to have had the opportunity to work in a career so intrinsically linked to the sports I love," added the 45-year-old.
"It has been a tremendous honour to have led the GPA and to have served our county players over the past decade and half.
"We are all extremely proud of what has been achieved in that time and I feel truly privileged to have witnessed the growth, development and success of the organisation in that period."
GPA chairman, Limerick hurler Seamus Hickey, said Farrell had been "an inspirational leader" while fellow founding member Donal Og Cusack said "all inter-county players and the GAA generally owe Dessie a great debt".
The GPA has appointed a sub-committee led by Hickey to run an open recruitment process to find Farrell's successor.
The process will start on 9 October and the sub-committee is expected to make recommendation to the board of the GPA by the end of the year.