Mickey Harte: Tyrone hurting after All-Ireland defeat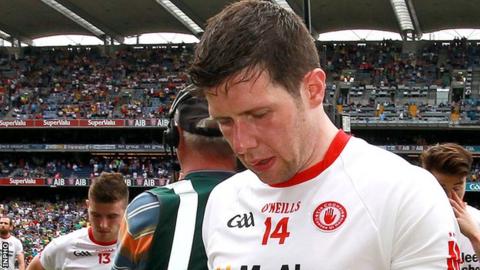 Tyrone boss Mickey Harte admits his team are hurting after being knocked out of the All-Ireland Championship by Mayo on Saturday.
The Ulster county had gone into the Croke Park quarter-final as favourites but lost by one point, 0-13 to 0-12.
Harte said he hoped 33-year-old skipper Sean Cavanagh would continue playing at inter-county level.
"Sean needs time to reflect, because it is a difficult and challenging time for him," said Tyrone boss Harte.
"Hopefully, he will be able to look a things through a different lens in the time to come."
Cavanagh, who has won three All-Irelands in a glittering Red Hands career, cut a disconsolate figure on Saturday, having been sent-off for getting two yellows cards.
Many are expecting the five-times All Star to retire from inter-county football, but manager Harte believes he has more to offer.
The long-serving Tyrone boss admitted that despite winning league and McKenna Cup honours earlier in the year, the 2016 campaign had ended on a sour note with the narrow defeat by Mayo.
"Winning the league this year was nice, but in Tyrone people want the All-Ireland," he said.
"It is not considered a really successful season if you do not get the All-Ireland, and this is another year gone by when we don't have it.
"We are a developing and evolving side and maybe it was a bit premature to expect them to have enough quality and experience to win the All-Ireland because it does not happen easily.
"But I believed this team was capable of at least getting to the semi-finals.
"There are a lot of people in that dressing room who are hurt about the outcome of the game.
"There was a degree if under-performing, but also a degree of the opposition not letting you perform the way you want to.
"Mayo were very much on their game in certain aspects of their play."