Cavan football manager Terry Hyland resigns after five seasons in charge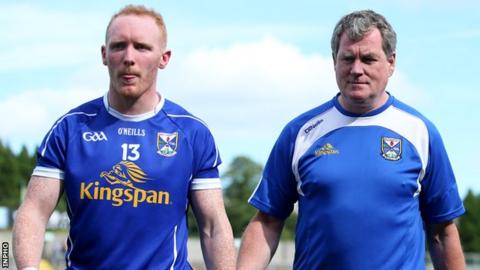 Cavan football manager Terry Hyland has stepped down from the role after five seasons in charge.
Hyland guided Cavan to promotion to Division One of the Football League this season but their high hopes of a successful championship were dashed.
The Breffnimen were hammered by Tyrone in the Ulster semi-final replay and then lost against Derry in a close qualifier contest.
Hyland said business commitments had played a part in his decision.
"I run a business and have eight or nine lads working for me. I have a responsibility to them," Hyland told RTE.
"During the spring, I would find myself working an 80 to 85-hour week, taking the football into account as well. It was no longer doable."
During his time in charge, Hyland led Cavan from Division Three to Division One while his Breffni side also reached the All-Ireland quarter-finals in 2013 where they were beaten by Kerry.
"Cavan has come on a lot in the last four-and-a-half years. We went from just been a kick of the ball way from been in Division Four to now been in Division One.
"The graph has been rising for the players."
Hyland, who guided Cavan Under-21s to two Ulster titles before taking the senior job, said that he was saddened to leave the role.
"The decision is a tough one as my heart and my love has always been for Cavan football.
"I'm 57 years of age now and I started playing football when I was 11 and haven't missed a year of involvement since.
"I'm sad to be leaving the lads."