BBC Sport - O'Kane says Derry have built up momentum ahead of Tipperary tie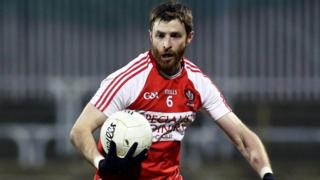 Derry relishing 'do or die' tie with Tipperary - O'Kane
Defender Gerard O'Kane says Derry have built up momentum and are "on a bit of a roll" ahead of Saturday's All-Ireland fourth round qualifier against Tipperary at Breffni Park.
A quarter-final place is at stake and O'Kane was part of the Oak Leafers' squad on the last two occasions they reached the last eight, against Westmeath in 2004 and Dublin in 2007.
O'Kane will start the game from the bench but believes the fact that the "games are coming thick and fast every week" is probably helping the Derry squad.
"We have generated a wee bit of good will in the county and you can see the support coming out again," he said. 66875