Ulster SFC: Derry keeper Mallon hopes De Gea & Cluxton videos can help sink Tyrone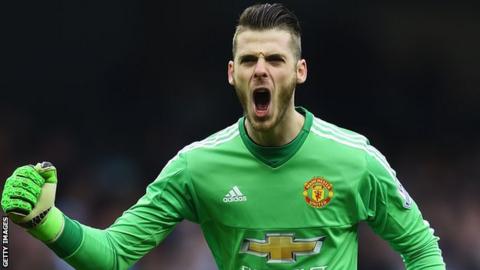 Derry keeper Thomas Mallon hopes his many hours spent watching Stephen Cluxton and David de Gea in action could help the Oak Leafers surprise Tyrone in Sunday's Ulster SFC tie.
Loup club-man Mallon is a big admirer of both the Dublin GAA keeper and Manchester United number one.
"You can absolutely learn a lot from watching those two," says Mallon.
"Cluxton has totally re-invented GAA goalkeeping and De Gea's footwork and speed are just incredible."
Mallon added: "You look at people like that just to try and see whether you can utilise anything in their game.
"Because of Stephen Cluxton's influence, kick-outs are absolutely of massive importance in gaelic football nowadays.
"I fully expect Tyrone to put huge pressure on our kick-outs but I'm looking forward to having to deal with that challenge."
Mallon says both Derry's current goalkeeping coach Mickey Conlon and previous incumbent Johnny Kelly both have brought a "soccer approach" to the role.
"Last year Johnny Kelly was over at Manchester United and he talked about the (De Gea's) footwork and speed and so we worked on that.
"This year, Mickey C has had a different approach with more of an emphasis on stretching and flexibility, getting up for the high ball, getting down for the shot.
"Both men have brought a soccer approach to the training aspect and both of them have definitely brought my game on."
Hailing from the Derry and Tyrone 'border' on the shores of Lough Neagh, Mallon admits that the rivalry between the two counties has been an ever-present in his GAA life.
"Growing up as a young fellow and going to Derry and Tyrone games, the atmosphere was always electric. You always dreamt of playing in that game."
As for his fondest memory from a Derry v Tyrone contest, Mallon immediately recalls the 2006 Ulster quarter-final at Healy Park when the Oak Leafers held the then All-Ireland champions scoreless in the first half before going on to clinch a 1-8 to 0-5 win.
"I was Derry's minor keeper that day and it was great to see two Loup club-men of my own Johnny McBride and Joe O'Kane playing that day, when Enda Muldoon got the goal.
"Tyrone were the All-Ireland champions and holding them scoreless for so long really made for a fantastic day."
Ten years on, few pundits are backing the Oak Leafers to achieve another Ulster quarter-final victory but Mallon insists that morale in high in the Derry camp.
"We'll respect Tyrone and it's going to be a huge, huge challenge for us but one we are going to relish.
"We wouldn't be training three or four times a week, getting up at six o'clock in the morning, if we thought any differently.
"It's 15 on 15. Championship. We're at home so we'll have support behind us."