It is impossible to eradicate sledging from Gaelic football

By Thomas Niblock
BBC GAA commentator
Last updated on .From the section Gaelic Games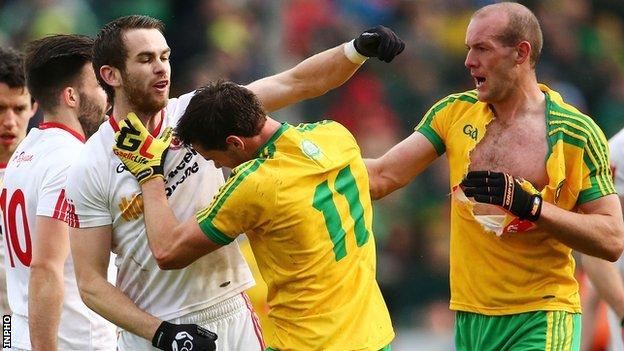 Sledging has been the big talking point in Gaelic football this week with Tyrone captain Sean Cavanagh giving his version of what went on during last Sunday's Championship game against Donegal.
Cavanagh claimed players from his county, who had been through tough times, were on the receiving end of personal verbal abuse.
"It is both sides and I don't know how you can change it. I don't know how you can stop somebody whispering in somebody's ear - you're never going to be able to police that," said the Red Hands skipper.
I was commentating on the big game last weekend and, with three screens in front of me and a good view from the commentary box, it is possible to see 'verbals' going on.
But in no way can you accuse players of sledging with a sinister edge. It's virtually impossible to prove.
Unless the players themselves decide not to go down the line of sledging, I fear it will be unrealistic to erase entirely. But, I feel vociferous slagging is not as widespread as some make it out.
Some even suggest it's a man's game, take what happens on the pitch and leave it there. But what about a boy's game?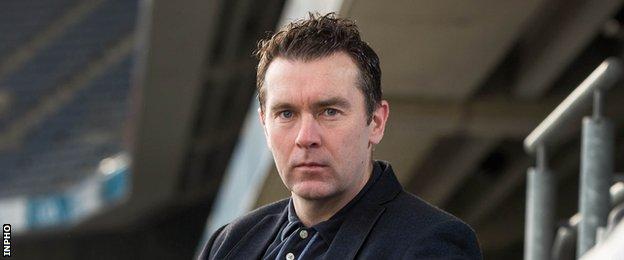 This week Donegal minor manager and former All-Ireland winner Declan Bonner, in his weekly column in the Donegal News, claimed his team's captain, Micheál Carroll, had been 'the victim of some of the worst verbal abuse you could imagine'.
It was alleged that opponents had mocked Carroll about the death of his father, Francie a former Donegal footballer, who passed away last year after a short battle with cancer.
Tyrone have rejected the claims that any of their minor players made such comments to Carroll, after conducting an investigation in to the allegations.
The reality is that sledging in Gaelic games goes on as players try to put opponents off by talking trash. But the worrying thing is that some players are sensitive and not able to laugh it off easily.
I remember former Armagh great Oisin McConville telling me about the time he was struggling with gambling addiction.
He said: "When I was on the pitch I was free, nobody could get me. It was the only place where I didn't have to worry about anything. It was like a big green field of therapy."
The evidence suggests it is not like that now.
Cavan v Monaghan will be live on BBC2 Northern Ireland on Sunday from 13.35 BST with Oisin McConville and Philip Jordan as studio guests and Martin McHugh on co-commentary.