Refs must punish verbals says BBC GAA pundit Oisin McConville
Last updated on .From the section Gaelic Games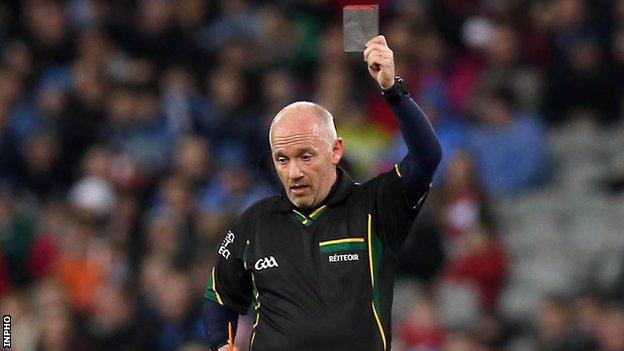 Former Armagh GAA star Oisin McConville says referees must hand out black cards in an attempt to halt "nasty abuse" being directed by players at opponents.
The issue of sledging has made the headlines following last week's Ulster SFC game between Donegal and Tyrone.
"The black card is there to deal with the horrible stuff which has become all too common," said the BBC GAA pundit.
"I would actually be in favour of red cards although that would need a change in the current rules."
McConville admitted:"Whether referees or other officials are going to be able to hear much of what is going on is another matter."
"But the rules are absolutely in place now for referees to hand out the black cards if they do hear the nasty stuff that is being said."
McConville believes that referees clamping down on the "verbals" could go a long way to reducing something which he believes has been prevalent in the sport for "20 or 30 years".
"I think the fact that we are having the debate this week will have a positive effect and perhaps make players think a bit more whether this is the right way to behave."
The 2002 All-Ireland medal winner says he faced countless incidences of verbal abuse during his players career and that it was effectively regarded as "part of the game".
"For the most part it didn't bother me and even now, I would draw a distinction between what I would call 'slagging' and the other more serious stuff which is just completely unacceptable.
"I had and probably still have no great problem with an opponent telling you, 'you're going to miss that free' or mocking you about your performance on the field. That kind of chit-chat you could laugh off fairly easily.
"But it's a totally different matter when you get fellows talking about your mother or your sister or other family members.
"Making those kind of really unpleasant remarks about a loved one for me is way more than sledging. It's abuse.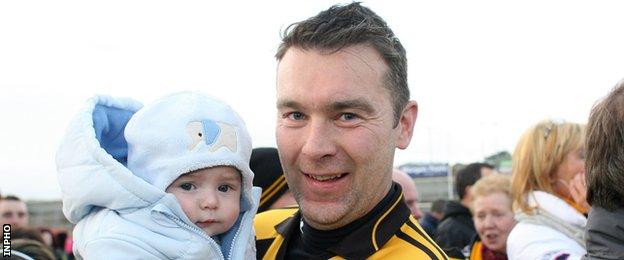 "During my playing career, I got used to it and probably ignored it. You had no real option.
"But I have two children of my own now and at times you ask yourself the question whether would like them to be involved in a sport where this kind of behaviour is part and parcel."
In his very candid autobiography published in 2007, McConville made reference to verbals he said he received from a couple of his opponents during the period of intense rivalry between Armagh and Tyrone in the early part of the last decade.
"I felt strongly about that and I mentioned it in my book and got stick from people who said that what's said on the field, should stay on the field."
The Crossmaglen hero's book also detailed his struggles against a gambling addiction and McConville says opponents attempted to exploit this issue.
"I remembered we played a game against Donegal and all the team came up to me and told me that they had heard about me losing my house and losing my pub because of my gambling and it was obvious that it was being orchestrated.
"But for me, far worse was always the stuff that was said about family members. That just cannot be acceptable under any circumstances."