Division 3 Football League: Limerick 1-06 0-18 Fermanagh
Last updated on .From the section Gaelic Games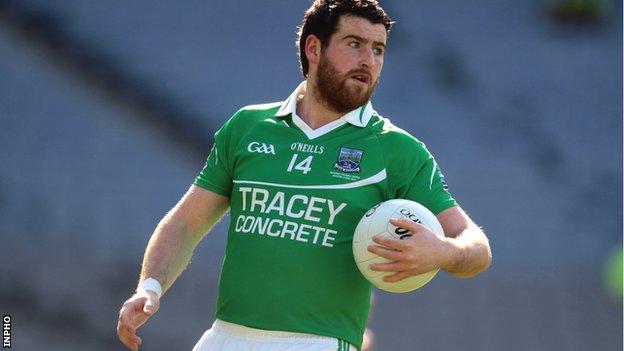 Fermanagh regrouped from the absence of the three Quigley brothers to ease their relegation worries with a nine-point win over Limerick in Division 3.
Manager Peter McGrath confirmed after Sunday's win that Seamus Quigley is no longer part of his panel following Tuesday's training disagreement.
McGrath is hoping that Sean and Conor Quigley may return to the squad.
Tomas Corrigan hit nine points at Newcastle West as McGrath's side controlled the game throughout.
The victory moves Fermanagh up to third place in the table although they remain very much in relegation danger with second-bottom Limerick, Sligo, Wexford and Longford also on four points.
With Roscommon and Cavan both now guaranteed promotion after maintaining their 100 per cent records in Division 3 on Sunday, Fermanagh's mathematical hopes of securing Division 2 football have been ended but Sunday's performance should give them confidence for their remaining relegation battle.
Fermanagh kicked the opening six points of the contest from play with Ryan Jones and Corrigan both registering a couple of scores.
Eoin Hanrahan's goal did cut Fermanagh's lead but the Ernemen quickly regained control again with corner-back John Woods among their second-quarter scores as they pushed on to lead 0-13 to 1-2 at the break.
Unlike the recent game against Longford when Fermanagh lost a big lead, they were never in real danger of being caught, although their second-half display didn't hit the heights of the opening period.
Following the game, McGrath inevitably had to field more questions of the Quigley question rather than his team's encouraging display.
"I can confirm that Seamus is off the panel and will not be returning," McGrath told the Impartial Reporter.
"The position of Conor and Sean is less clear. The door is still open and I would like to think that there will be some kind of contact with Conor and Sean to talk through the situation."
For Sunday's clash, Conor Quigley was replaced in the full-back line by Che Cullen with Ronan Ormsby and Brian Cox drafted into the Erne side in place of central attackers Sean and Seamus.
Seamus Quigley has fallen out with a number of previous Erne managers.
And the full-forward and another panellist Niall Cassidy were dropped for last month's Football League win over Sligo after playing in a junior soccer game on the same day as the Division 3 match.
However, Quigley played in the subsequent defeats by Longford and leaders Roscommon which dropped McGrath's side into the relegation picture.
Sean and Seamus Quigley have been Fermanagh's top scorers during the league with Sean hitting 1-5 against Roscommon last weekend and Seamus contributing 2-1.
Fermanagh: C Snow; J Woods, C Cullen, T Daly; D McCusker, R McCluskey, T McElroy; E Donnelly (capt), R O'Callaghan; L Cullen, R Jones, P McCusker; R Ormsby, B Cox, T Corrigan.
Allianz Football League results
Saturday 15 March
Division 2
Armagh 0-10 1-17 Monaghan
Laois 1-09 0-15 Meath
Sunday 16 March
Division 1
Derry 1-16 0-13 Dublin
Kildare 0-15 2-15 Kerry
Mayo 4-12 2-14 Cork
Tyrone 2-23 1-12 Westmeath
Division 2
Down 1-09 0-10 Donegal
Louth 2-09 0-15 Galway
Division 3
Limerick 1-06 0-18 Fermanagh
Longford 0-10 1-09 Cavan
Roscommon 3-19 2-04 Offaly
Wexford 2-12 1-12 Sligo
Division 4
Carlow 1-11 1-25 Wicklow
Tipperary 3-20 1-17 Antrim
Hurling League
Division 1A
Galway 3-16 1-19 Tipperary
Clare 5-18 0-20 Waterford
Division 1B
Antrim 1-12 0-18 Cork
Wexford 2-21 1-18 Laois
Offaly 2-15 2-15 Limerick
Division 2A
Kerry 3-14 0-17 Carlow
Kildare 1-14 3-11 Westmeath
Division 2B
Fingal 2-10 4-19 Down
Mayo 0-09 0-15 Wicklow
Armagh 3-09 1-21 Meath
Division 3A
Fermanagh 0-10 4-20 Roscommon
Donegal 3-16 1-07 Monaghan
Louth 3-11 1-10 Longford
Division 3B
Leitrim 2-11 2-09 Sligo