Casement Park project approved but protest disrupts announcement
Last updated on .From the section Gaelic Games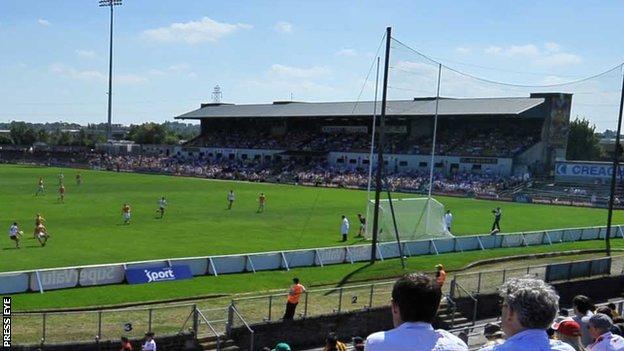 Plans to transform Casement Park into a modern 38,000-seater Gaelic Games stadium have been approved.
Some local residents have objected to the scale of the rebuilding scheme and Thursday's announcement of the granting of planning permission was disrupted by a protest at the west Belfast venue.
This led to the official announcement having to be moved indoors.
Work is due to start early next year and the GAA's Ulster Council hope matches can be played there from 2016.
Environment Minister Mark H Durkan announced that the £76m project would be going ahead.
However, those opposed to the project still have the option of mounting a legal challenge to the planning decision.
Sports Minister Sports Minister, Carál Ní Chuilín, and senior figures in Ulster GAA, were at Casement for the news that the stadium redevelopment had been given the go ahead
But as they posed for pictures, a small group of residents, who had opposed the 38,000 seater stadium, arrived and began to vent their anger at the ministers and Ulster GAA officials.
The Ulster Council said a 38,000 capacity was needed for the staging of Ulster Senior football finals and All-Ireland quarter-finals.
The redevelopment of Casement Park is part of the government's policy to upgrade the three major sports grounds in Belfast - football's Windsor Park, Ulster's rugby ground at Ravenhill and the Gaelic Games stadium at Casement.
Two new stands have already been constructed at Ravenhill, and the final one is nearing completion.
Work on modernising Windsor Park, the home of Irish League club Linfield and the Northern Ireland international team, has been approved but has yet to get underway.
The Sports Minister described the Casement planning approval as a key milestone in the development of the regional sports stadiums programme.
Environment Minister Durkan said the granting of planning permission had not been an easy decision and that he understood the concern of residents.
He added that the stadium would boost sports tourism and the economy.
"As Environment Minister, my decision cannot ignore the regional benefits that will result from the development of this stadium and how it fits with the Executive's programme for government.
"The future management of events is key to the success of the stadium and I expect the GAA to honour their commitment to help ensure that a vibrant stadium can exist within and for the benefit of the local community and indeed all of Northern Ireland."